Sylvester Named Scholar Athlete of the Year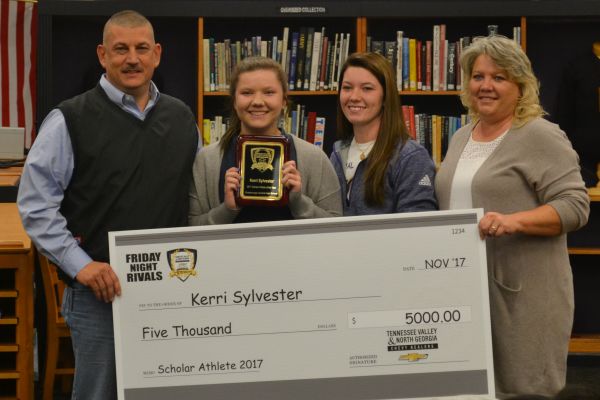 Throughout football season in Tennessee, News Channel 9 features a student athlete every week. At the end of the season, one of these students is chosen as scholar athlete of the year. For 2017, Central's own Kerri Sylvester, senior, was named scholar athlete of the year!
"I sent in my information when I got scholar athlete of the week. From there, I had to send in a 2 minute video of all my accomplishments and why I think I deserve the scholarship. After that it was just a waiting game to see if I received it or not," revealed Sylvester.
Sylvester received recognition for her achievements while surrounded by her softball and volleyball teams, coaches, school administration and family. Along with this recognition, she received her scholarship check for $5000, which she plans to use for needs such as books.
"I was completely shocked. It was a mix of disbelief and joy because I'm sure there were a number of great scholar athletes that deserved this award as well, but I somehow got chosen. I felt really grateful," expressed Sylvester.
Along with her dedication to sports, Kerri is also part of Beta Club and National Honors Society. She is a four-year honors student and has a maintained 3.97 GPA. Sylvester also volunteers with the Forgotten Child Fund and Parkridge Medical Center.
"I'm just waiting to see if playing a sport is even an option, if I get a scholarship I might consider it. Right now my plans are to attend UTC to further my career as a Nurse Practitioner based on academics," revealed Sylvester.
Special thank you to The CW Chattanooga for providing this opportunity for Kerri to continue her education and make her mark on the world.