CHS Drama Club is 'Earnestly' Prepping for Spring Play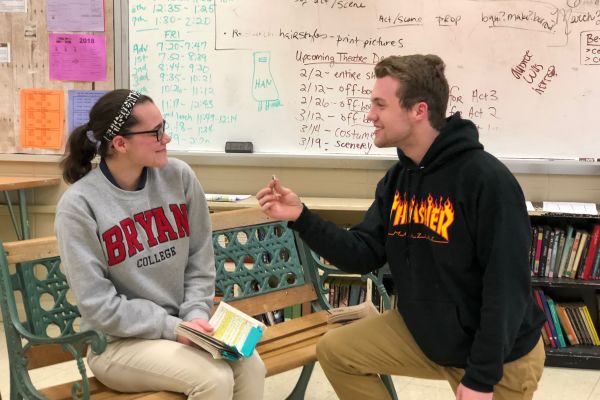 Central High School's drama club is making history again as it prepares for its second play this school year, "The Importance of Being Earnest." Both the students and Ms. Sally White, the drama teacher, are very excited about putting on what is sure to be a spectacular play.
"'The Importance of Being Earnest'" is written by Oscar Wilde and is set in Victorian England, where everything is superficial. This play is a satire that ridicules high society, and the title tricks the audience into thinking they are seeing a play about honesty. The joke is that the two young women in the play are obsessed with marrying a man named Ernest, regardless of what his character is. The two men are willing to do anything it takes to be with the girls, including being christened 'Earnest,'" Ms. White said, summarizing the play.
This is a play that is well known in the acting world and remains a classic.
"It's a staple of the drama catalogue. This play is full of roles that every actor throws on a bucket list at some point," Ms. White declared.
Senior Haylee Smith, a lead actress who plays Gwendolen Fairfax, is very enthusiastic about performing in this production.
"This play means so much to me, especially considering the part I am going to play is the part that Ms. White played when she did the show. Also, it is allowing me to broaden my horizon acting-wise, and I feel like that is going to help me out in the future," Smith expressed.
Junior Caitlin Leamon, who plays Cecily Cardew, shares Smith's enthusiasm.
"I think that the play is going to be awesome and our cast really gets into their roles and fit the characters perfectly," Leamon stated.
As with any play, there are both mental and physical challenges that the actors are facing.
"The play is very wordy. British humor depends on language, so learning the lines takes practicing three hours a day," Ms. White conveyed.
"In order to get ready for the play, there's a lot of lines that have to be learned. Also, since it's a British comedy, I have to learn and perfect a Victorian England accent and that is not easy," Smith attested.
However, despite these challenges, the drama club is working hard and Smith feels that play is coming together very well.
"Even though we are having a hard time learning the lines and accents, I am hopeful that everything will work out because a lot of effort and love is being put into the play," she declared.
All of the other challenges, such as the set and where to stage the play are already being worked out.
"The big hurdle for us anytime is the venue, but we're going to stage this play in the library. Also, Mr. Bright has offered to get his classes to help us build scenery," Ms. White said.
Overall, this play is shaping up to be a top-notch production, and everyone should mark in their calendars that on March 30 and 31, "The Importance of Being Earnest" will be performed in Central's library.
"Everyone should have happy memories of this play. You don't want it to end because it's so lighthearted," Ms. White concluded.
About the Contributor
Madi Blackburn, Staff Writer
Hi, my name is Madi Blackburn! A little about me: I am a senior here at Central, and this is my first year being a part of the Central Digest! I love reading,...