Central Sound Had a Fanstasmic Time On Disney World Trip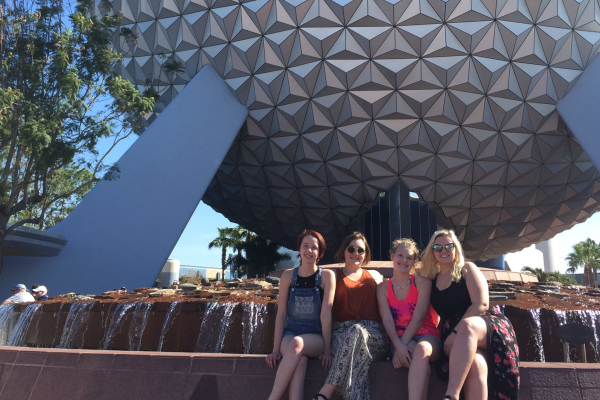 Hang on for a minute...we're trying to find some more stories you might like.
The Central High School Band takes elaborate trips to distinct places every couple of years. This year they adventured to Walt Disney World in Orlando, Florida. The trip took place during the 21st through the 25th of March.
The trip included three days in the four Disney theme parks and a workshop, "You're Instrumental," in which the students got to experience what it is like to be a professional musician in a recording session for a film score.
"Well, Wednesday we went to Disney Springs to eat dinner and buy souvenirs, then we went to the hotel. Thursday we went to Epcot and got on different rides," sophomore, Elena Salgado informed, "Friday we went to Animal Kingdom, got on some rides, and later went to Hollywood Studios and attended the "You're Instrumental" workshop. Saturday was Magic Kingdom, we also rode rides there and watched the firework and light shows. We also saw the Fantasmic Show," she added.
The trip consisted of the band members who paid their fees and a few chaperones who joined along, as well as teachers.
"I used a travel company called Groups on Tour for the trip. A friend of mine who is a retired band director, Mr. Jim Souders, was the travel agent who did all of the planning," explained Joshua Bloodworth, Director of Bands at Central High School.
The semi-annual trips were put in place by Bloodworth when he arrived at Central.
"This is my third trip with the band since I have been the band director at Central," exclaimed Bloodworth, "We went to Disney World in 2014, Chicago in 2016, and back to Disney this year," he added.
For the most part, the trip was a great reward for the students after all of their hard work through Concert Festival, which was their standardized assessment season.
The educational impact of the trip was found in the "You're Instrumental" workshop, but Bloodworth on the other hand, thinks that the bigger impact was intrapersonal.
"I was pleased to see the students hanging out with many different students throughout the trip. The students didn't "clique" up, but were very inviting and accommodating to have new students in their groups as they explored the parks together," delineated Bloodworth.
The students overall had an amazing time in the "magical" world of Disney, and it is definitely a high school memory they will remember.
"I liked being able to have the opportunity to go on a school trip to a beautiful place that had so much to do and see. My favorite part was being able to play in Disney's Hollywood Studios Workshop," elucidated Ariya McGhee.

About the Contributors
Cassandra Castillo, Staff Writer
I am a sophomore and a new member of the Central Digest. In my pastime I like to play volleyball and draw, I also like to take pictures of nature and people. I aspire to be a successful  architect in the future.
Matthew Davis, Assistant Editor
Hi! I am Matthew, and I am a junior here at Central. I am a member of the Central Sound marching and concert bands (an award winning band). I am the type of person who strives to do the best in everything I do, so hopefully you will see that in my writing!