Mayor's Youth Council Offers Opportunities for Students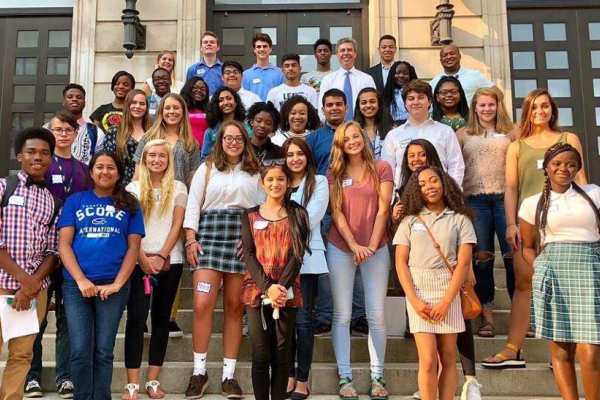 Abby Young, Staff Writer
September 22, 2018|50 Views
Mayor Andy Berke has multiple goals for the city of Chattanooga. One goal Berke possesses is to equip Chattanooga's youth with knowledge about government and to acquire their views on the issues surrounding the city. One way to achieve this goal is through The Mayor's Youth Council.
The Mayor's Youth Council (MYC) is a year long program made up of 40 juniors and seniors from 16 different schools. The program was created in August of 2015, where students are united by advising the mayor on various issues concerning adolescents today. This helps Andy Berke to see the issues in the eyes of the youth. The students consult with each other, and with the mayor, to create solutions to these issues.
"The Students will actually be able to create a plan, go out into the community, and implement it," Shelby Glover, Tyler Yount, and Jermaine Freeman revealed.
MYC is more than just talking about issues; the students actually have the opportunity to help Chattanooga hands on. Such as, Central High School seniors, Jake Johns and Matthew Davis. They enjoy being able to experience government and politics with their own eyes along with being hands-on with their community.
"We get political experience, get to work alongside Chattanooga city mayor Andy Berke, and learn more about public policy and politics in general. I love politics and being involved as a leader, so I saw it as an exceptional opportunity," Jake Johns admitted.
"I get to experience government first-hand. The same way we elect congress officials to represent our state, I feel as though I have been chosen to represent the youth of Chattanooga," Matthew Davis stated.
Some young people and teenagers do not consider themselves a top priority to their community. They feel like their opinion does not matter and they are not listened to. For the students, MYC changes that.
"As young people, we are always pushed to the side like our voice doesn't matter. Mayor Andy Berke sees the value we have and wants us to use our voices for change," Davis informed.
The MYC strives for greatness in youth. Mayor Berke and his team see the importance in students and upcoming generations. They refuse for the youth and Chattanooga students to be overlooked. It is important to the MYC team to teach and guide them.
"We want the members of the Mayor's Youth Council to become more involved in local government and in advocating for their peers. We also want them to have a better understanding of issues in local government which communities and neighborhoods face. Basically, we want all MYC members to leave the council inspired to make more and more positive changes in their community," the MYC team concluded.
About the Writer
Abby Young, Staff Writer
Hello! My name is Abby Young. I am a senior here at Central and this is my second year on the Digest. I am unsure what I want to pursue after I complete...