Don't be Tardy, Dress Like it's a Party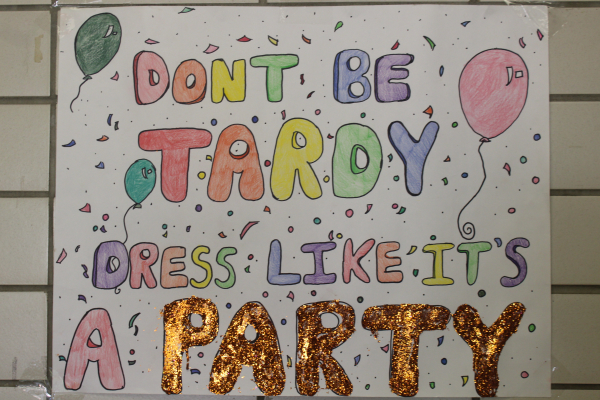 Hang on for a minute...we're trying to find some more stories you might like.
Dress down days at Central High School cause excitement to all students. There may be few days to dress out, but thanks to Amie Wilson's sixth period psychology class, the fantasy of dress down may just come true for students. This is a rare occasion at Central, but this class has been working hard to make it happen.
Supposedly happening sometime in October, students will be able to dress down for an entire week, as long as they earn it. This could happen if students reduce the number of tardies by getting to class on time.
The Psychology class is using this dress down week as the objective of their school spirit project, which requires each period to come up with an idea that can help the school acquire more spirit for Central. The idea was admired by Principal Finley King and, if implemented, will take effect some time in October.
"It gives people, that are on time to class, more freedom. It also gives them an opportunity to get a reward for getting to class," said Junior Javonte Pratt.
The anticipated outcome of this project is to help students become more enthusiastic about coming to school. Usually, more freedom for students makes them happier, therefore, more spirited to come to school.
"I think that it will motivate students to be on time because they have a reward," stated Sophomore Erin Bell.
Some students, however, believe that this dress down week will have little to no effect.
"I don't think it would change anything because most people don't care," explained Bryson Eddy, a sophomore at Central. "I feel like without going through the trouble to check Powerschool, there's no way to tell who's tardy and who's not."
There are many problems surrounding the idea of making sure all students get to class on time. However, if students are promised a reward, this may become easier to carry out.
"Having an opportunity to dress down will get students more excited about school. I hope we can follow through and make this happen," stated Sophomore Zoey Greene, one of the students in charge of the project.
As long as students can get to class at the right time; they may be able to enjoy a week-long period of freedom in what they want to wear. Like the signs say, "Don't be tardy, dress like it's a party!"

About the Contributor
Bailey Brantingham, Video Editor
Hi, my name is Bailey Brantingham. I'm a sophomore at Central High School and this is my second year on the Central Digest. This year, I'm back as a video...