Central High School Bands Display Abundant Talent in Multiple Environments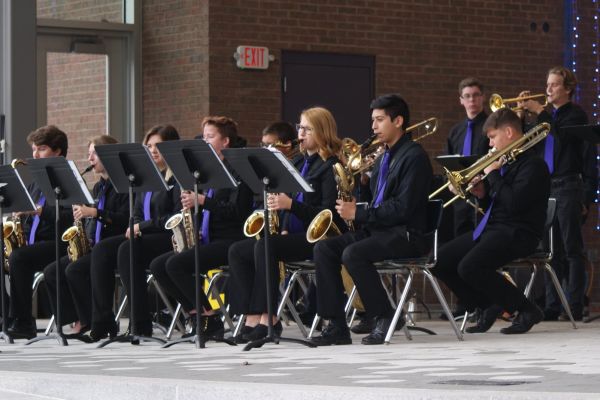 The Central High School band is one of the most rigorous groups in the school. Hosting three separate groups, the marching, concert, and jazz bands, gives Central a unique opportunity for students. With the surplus of groups available, band students are very busy performing to show off their skills.
The band began their year with marching band. This group performed their show, "The best of Earth, Wind, and Fire" at every football game, pep rally, and participated in "A Bradley Classic" band competition. Here, they competed in class AA, where they ranked second place for their performance.
"[Performing] makes me proud, knowing that my hours of practice were worth it. I realize how far I have come since starting, it just makes me so happy overall," shared Lacy Mckinney, a senior clarinetist.
After a successful marching season, the band began their marathon of concert band and jazz band performances. On October 27, the jazz band performed at Miller Park in downtown Chattanooga as part of "String Theory in the Parks." The band performed around 10 songs, including "Chattanooga Choo Choo" by Harry Warren, "In the Mood" by Joe Garland, and "New Orleans Jazz Portrait" by Mike Vax. They were accompanied by three other groups who also showed off their own individual talents.
The group followed this on Sunday, October 28, with the first concert band performance of the year. The group performed seven songs, most notably "Ride" by Samuel R. Hazo, "The Man Behind the Gun" by John Phillip Sousa, and "Come Thou Fount of Every Blessing" by Randall R. Standridge.
"Being a musician is amazing, being able to create something people can feel, and try to understand, without having to say a word. [Music] is a form of art that you don't have to see to understand, and I think it is beautiful. Especially how not everyone can do what we can," revealed Edicklee Frias-Cruz, a senior percussionist.
The Central High Jazz Band also performed on November 8 at the Harrison Bay Learning Community meeting. Here, the group performed throughout the evening, giving guests a sense of the amazing music program going on at Central.
"The band has turned me into the person I am, and I am indeed grateful. I have learned to always move forward, just like music," expressed Logan Hudgins, a senior percussionist.
The Central High Jazz Band will be performing at the Rock City Garden of Enchanted Lights on November 28, in addition to Christmas at the Courthouse on December 6 and their Hamilton Place Mall performance on December 15 at 7 PM.