'Hair Wanted': Cotreau's 'Fur'ensic Class Analyzes Various Types of Fibers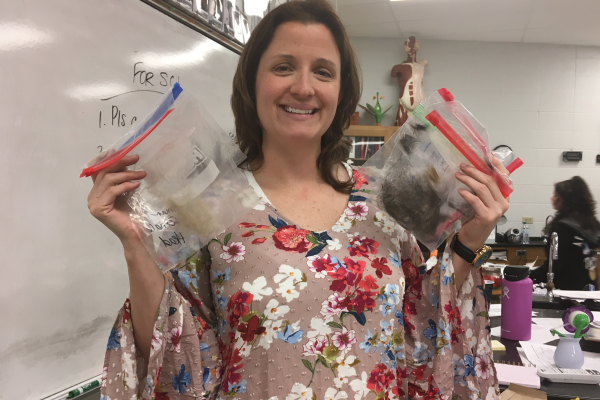 Forensics is a class where students study criminal investigation and procedures. They get the opportunity to learn about criminal evidence, life after death, and analyze the details of a multitude of complex criminal cases. With such deranged acts of violence being discussed and sophisticated investigation protocols that those offences entail, the behavior of forensics students seemed a bit odd without context.
Every year, forensics instructor Christina Cotreau encourages her students and colleagues to donate their unwanted hair and fur to her for use in a lab that her students conducted. In an email, Cotreau emphasized that the source and cleanliness of the hair samples was of no importance, and even promised to provide bags to transport the hair in.
The hair that she received would be used in addition to the samples that students already provided from themselves. Such a variety of fur allowed students to view various distinct types of hair, and compare and contrast the strands to one another. She organizes the procedure each year in hopes of helping students learn to differentiate the fur fibers independently.
Students began the lab by prepping a glass slide with the desired sample of hair and placing it into a microscope for magnified viewing. The microscope allowed students to see each individual detail within the hair and fur used. Cotreau instructed her students to also sketch out their findings for later discussion.
"I thought it was interesting to see all of the details that make up the strands of hair," divulged Junior Danae Wnuk.
Students seemed to really enjoy this observing the hairs in class. The images of the components within the hair really intrigued many.
"I really enjoy this class! I love microscope stuff! It's fun to hear 'ahh' or 'ooh' when they begin to focus the microscope and see the structures," Cotreau expounded.
Donating hair to the forensics class would help the students delve further into their unit's material. Sometimes it may be hard to get all the knowledge from what little samples they have available. Cotreau is always appreciative of additional samples given to her, so be sure to contact her next year in time for this hair raising assignment.
About the Contributor
Karleigh Schwarzl, Staff Writer
Hi, my name is Karleigh Schwarzl. This year I am your Sports Editor! I am so excited to have this role going forward! I play both soccer and softball....