Drafting Students Explore the Deep Secrets of Little Debbie's Snack Cakes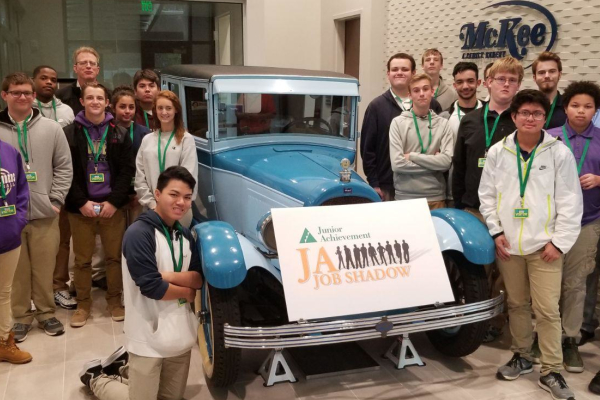 Hang on for a minute...we're trying to find some more stories you might like.
Central students recently took a trip to the Little Debbie factory, led by Drafting teacher Mr. Keith Bright, where they had the opportunity to experience the advanced methods of operation the company follows. They were all able to see the machines and strict operating skills employees have to abide by on their daily shifts.
"We toured around the facility and they [staff] told us their motives for working there. That's what helped the company grow because they care about the people working there," described Junior James Ortiz. "Everything was organized and well thought out."
They offer this exclusive trip to schools, however, the application process makes it difficult to get into; both the school and the students needed to be aware of the company's strict rules.
"We've been trying [to take the trip] for 3 years now. When we first started the pathway to technology, they became a partner that we could look at to see their best manufacturing, but it took us three years to get there," elaborated Bright. "I see why though, it's a very strenuous selection process for schools and kids."
Junior Achievement sponsored the trip, so each senior ended up receiving their job shadow credit for the year. They also gave them a test about general job skills.
"It was a pretty good experience; we learned about machines and what they did. We ate lots of Little Debbie's too!" exclaimed Junior Jacob Dearing.
The group was escorted by employees with decades of experience. The escorts explained how the machines worked and discussed their salary, health benefits, and job experience. Students were eager to learn about how it worked and even considered to work there in the future.
"Every student performed professionally, they asked questions, and they continued to be interested. I couldn't ask more from them; they were great. Little Debbie even sent a letter saying how well behaved and interested our kids were. They even asked us to apply for the spring trip, so now they're asking us to come back," explained Bright. "That's how good we are here at Central, people don't realize. When you see our kids, we're no different then other kids, we're even more self-aware than others. When you take kids out of their element and put them somewhere professional and interesting like that, that's where it starts clicking."
Overall students learned the manufacturing process of a local company, that could eventually affect their views of technology and machinery in the work force. Along with writing a thank you letter to the tour guides, they exemplified what Central High students are really like.