Central High's Manufacturing and Mechatronics Institute Conduct an Out-Of-This-World Project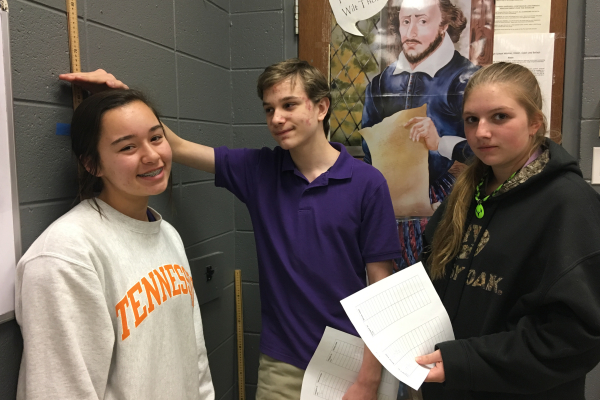 From the beginning of this school year, Central High School has been home to a program that the Hamilton County School District implemented. The program is called the "Future Ready Institute of Advanced Manufacturing and Mechatronics," simply known as the "Mechatronics Academy."
Members of the institute study mechatronics, which combines mechanical engineering and electronics, using problem based learning (PBL). PBL assists the students with their common sense skills, imagination, and self-confidence.
"This institute prepares students for roles in the ever growing and vast industry of manufacturing. It is an institute that begins in a student's freshman year and continues until they graduate. A student's learning experience is a bit different than the average student here at Central. The institute members stay together in all of their classes and are exposed to learning experiences that are focused on manufacturing in each class they take," clarified Jon King, instructor of the institute.
The members of the academy will focus on the many different aspects of mechatronics and manufacturing throughout the year.
"Right now, we are doing an introduction to robotics and learning different types of ways to make materials," declared freshman member of the institute, Tatum Wallace.
Since PBL is quite hands-on, there will be projects corresponding with what the students are learning through the academic year. In a PBL project the academy is working on now, members were asked to design a space boot for future exploration on different planets. In each of the students' academic core classes, a specific role is filled for the project. For example, one's English class helps with communication skills, which are vital to the manufacturing process. Also, one's math class helps with certain mathematical formulas applied in the design of their space boot.
"By creating footwear for something that is futuristic and space aged, the students are forced to dig a bit deeper in their research and proudly take full ownership of their designs. Another fun aspect of this project asks students to determine each material that is used on their boot, one of which that doesn't exist. This special material is one that they can determine its attributes completely from their imagination," King described.
In order to complete their space boot project adequately, the students were required to collect data to see if an individual's shoe size correlates with their height. During the students' seventh period math class, groups spread around the school measuring fellow students' height and inquired their shoe size. From there, the scholars studied the data for their project.
"Future Ready is awesome; it is preparing us for the most paying jobs. It is definitely different, but I like the learning style," exclaimed Freshman Logan Siler.
King has a multitude of ideas in store for his scholars, including an additional project to construct a website to sell infinity mirrors that the class will design and manufacture themselves. King considers the space-suit project to be quite a success and is proud to use problem based learning.
"It [PBL] is something new and exciting for the students to do in the school building. The members in this institute are all hands on learners and I believe that they are enjoying the process of learning in this manner," King concluded.
About the Contributor
Abby Young, Staff Writer
Hello! My name is Abby Young. I am a senior here at Central and this is my second year on the Digest. I am unsure what I want to pursue after I complete...