Central's Track Team Partners with Pizza Hut to Create Fundraiser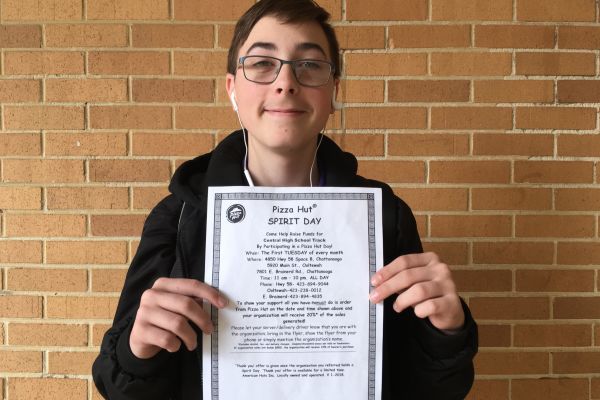 Central's track has seen some long-awaited changes recently, but money is still needed for the team to continue thriving this upcoming season. That is why Central High partnered with Pizza Hut to help raise funds for the track team this spring. In order to purchase equipment, uniforms, and training gear the team will need help from both parents and students.
On the first Tuesday of every month, Pizza Hut will give Central a percent of their earnings with every customer that mentions "Central High School track," this includes dine-in, carry out, and delivery orders. The fundraiser will include the Highway 58, Ooltewah, and the East Brainerd Pizz Hut locations.
Many students and teachers believe that the Pizza Hut fundraiser will benefit Central's track team; it could also lead to future fundraisers and sponsorships.
"I think the fundraiser will benefit Central's track by providing more money to the team, so they could get more equipment and be able to hold more events with the track. This could benefit Central by showing off the track team's success, which would result in more companies wanting to sponsor Central," voiced Freshman Blake Chambers.
The fundraiser is still in the early stages, but progress is being made. Coaches, as well as players, hope to see many purchases being made throughout the year in order for the team to succeed.
"We are only in the second month of the fundraiser [with two eligible days for collecting money], so word of the fundraiser is not as widespread. The results are not as high as we would like, but word is getting out," explained Coach Bloodsaw, head track coach.
With that being said, spread the word and purchase a pizza while mentioning Central High track in the first Tuesday of every month.
About the Contributor
Kirstin Langton, Staff Writer
Hi! My name is Kirstin Langton, I am a freshman, and this is my first year on the Digest. My interests include writing, watching movies, and hanging out...