Seniors Recognize Their 2019 Superlatives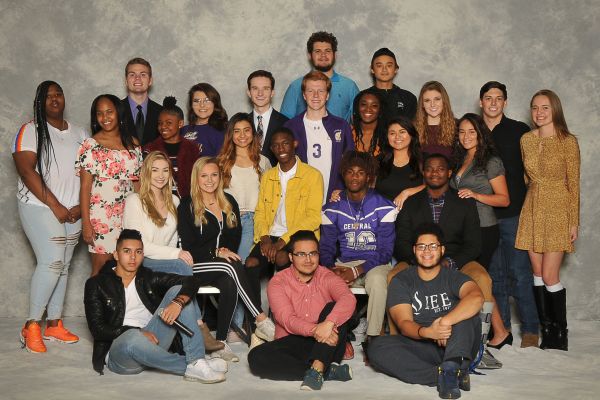 We all have sought for recognition for our contributions towards society, no matter how big or small these efforts may have been. For this reason, Central holds an annual vote for seniors to decide which of their peers best represent various superlative categories. Many seniors are just as passionate about receiving a superlative title as they are about being able to recognize other classmates deserving of the honor, which makes this tradition so popular.
With the high expectations that the graduating class of 2019 upholds, we can assume that this year's superlatives are deserving of their acknowledgment, and fit their elected role like a piece to a puzzle. However, not all of the seniors were expecting to be elected for a superlative.
"I really wasn't even expecting this award," admitted Torchbearer, Nathen Vanderwilt, "There are a lot of my fellow classmates that have a lot of school spirit. But it sure is cool winning this award."
Some students showed how honored they were to receive their respective titles, and expressed what it took to get to their current position. For the most part, they credited their undying spirit for helping them win the hearts of their peers.
"First of all, I just think that it's so cool that out of all of the people in my senior class, they chose Nathen and I to be the people that represent the most [school] spirit and what Central High stands for," divulged torchbearer, Hannah McKinney, "It could be anything from cheering our hearts out in the student section to being a friend to someone who may not have many. I didn't think that I'd be the one to hold this title, but I'm proud to say that I'm the Torchbearer of the class of 2019!"
A few superlatives were really touched after being recognized, and really felt like they belonged here at the school. They were surprised that their classmates felt the need to vote for them. They showed immeasurable signs of appreciation.
"I don't like to be recognized for things like this, but the fact that my class voted me both surprised me and made me feel like I am really making a difference," divulged Ivan Llamas, who was chosen to have contributed the Most Service.
Several of the seniors took the time to give advice to up and coming seniors. The class of 2019 hopes that the juniors will plan accordingly for their graduation in order to make their transition into the real world a lot smoother.
"My advice to upcoming seniors is to work hard, stay on track, and don't slack off," advised Best All Around, Delaynie France, "Make sure to apply for the colleges you want to, but also keep your options open."
It is always good to feel recognized for something, even if you were not anticipating it. The school is hoping to see the elected superlatives strive to continue to embody their positive titles.