Jake Johns and Meghan Duncan Represent Central High School and HCDE at 2019 SCOPE Conference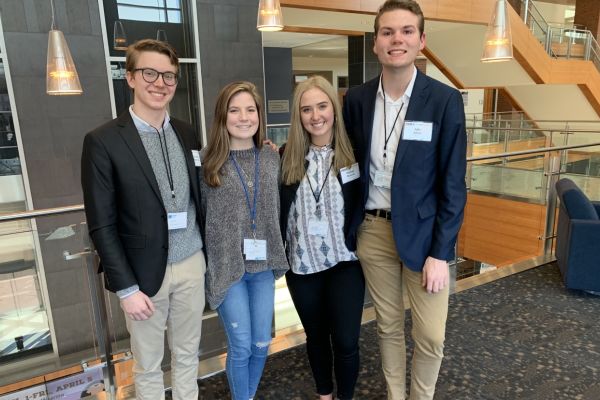 On March 5, 2019 the Student Congress on Policies in Education, commonly known as SCOPE, will take commence at Middle Tennessee State University. Two Central students, Jake Johns and Meghan Duncan, will be representing Central High School and Hamilton County along with students across other high schools in the Hamilton County School System.
Johns and Duncan were chosen by Mr. James Massengale, the U.S. Government and Economics teacher at Central, based off of their involvement in the school community and their leadership skills.
"I'm excited to meet and interact with students from all over. I'm thrilled that I was chosen, and I feel like Jake and I will represent Central High School and Hamilton County very well," said Duncan.
"I am very excited to be representing Central High School and HCDE at SCOPE. Debating and advocating for a better cause is something I have and will always been fond of," said Johns.
SCOPE consists of two students from each high school in a school district that come together with other school systems to debate school policies. Participants will explore education issues through mock school board meetings and group discussions. 
Debate topics include: if high school graduation requirements shall include several pathways/options (college and career, industry credentials, etc.) that allow students to graduate with a regular high school diploma, if students should have the option of substituting club sports for physical education requirements,  if fighting on school grounds or during school activities shall be a zero-tolerance offense, and if honors recognition at graduation, the board shall use the Latin System (i.e. summa cum laude, magna cum laude, and cum laude) instead of selecting a valedictorian and salutatorian. Students are divided into 16 groups to debate the pros and cons of each topic. Afterwards, the conference as a whole votes on whether or not to pass the topic.
Johns, a member of group 14, was elected Superintendent unanimously by his mock school board.
"I am very proud of my accomplishment. I was elected by a mock school board consisting of students from all over the state that I had never met. The fact that I was elected unanimously surprised me and I am very proud of myself and thankful for the opportunity," expressed Johns.
Johns believes that conferences like SCOPE help students become engaged and active in society. He hopes that students from Central High School and Hamilton County continue to take of opportunities to display leadership and commitment to their schools.
"SCOPE is a great platform for students to gain experience in debate, collaboration, and confrontation with students they do not attend school with. This is a wonderful opportunity available to students, and I hope students continue to show all of the other school systems that Hamilton County is filled with intelligent, well-rounded future members of society," concluded Johns.