Central to Host its Sixth Annual CDC Prom With the Help of Student Volunteers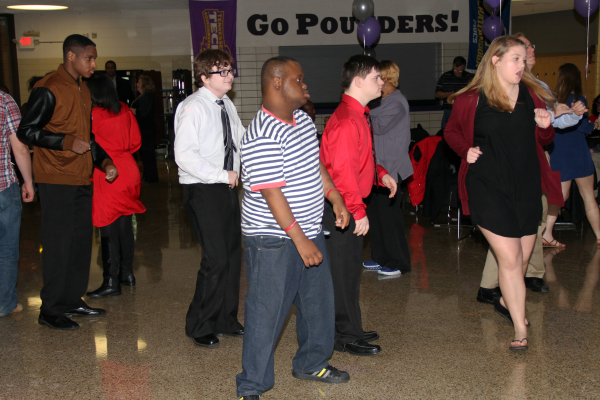 Five years ago, a student walked up to Principal Finley King and asked, "Why don't the CDC kids go to prom?"
"It's off location and I guess that they just do not feel welcomed," was King's response.
After this short, disheartening conversation, the student decided to take matters into their own hands, and made plans to organize a fun, welcoming event dedicated to these students who were often left out of the typical prom festivities. This one idea would soon change students' entire outlook on the situation, giving them a night to enjoy themselves and have fun. She had wanted to create a comforting environment where students felt "a part of something."
"I had hoped the year after that another student would pick up this event. I mean it's a lot of hard work. I didn't want to go up to someone with this project and ask them to do it, but, thankfully, someone decided to pick up the event and plan it all out," King alluded.
Senior Laurelie Holmberg has hosted the event for what is now two years, and co-hosted the event for only a year. She has helped find businesses and organizations that were happy to donate food and decorations for the dance. She has also been in charge of arranging the time of the event and making invitations among the other details that go into organizing a prom.
"I'm inspired to do this because I have an understanding that these students don't get the opportunities in general that other students may have. They are often regarded as 'different' or that 'they shouldn't be included.' So, I feel inclined to host it to give these students a chance to socialize and feel 'normal' for one night. I think that they deserve the chance to feel included, which doesn't happen a lot," Holmberg explained.
The whole idea is to make the prom as inclusive and enjoyable as possible. People are coming to this dance to have fun. The overarching theme is not to be super dressy and nice, but rather to have a nice time. Students can get involved with this event by helping Holmberg and her team set up. It is very much appreciated if students could assist by serving food, or just by coming and spending time dancing with the students to help create an inviting environment for the students attending.
"One of my favorite memories is when a student came up to me and told me that this was the most fun that she had ever had. She was so excited about everyone coming to dance with her. It was so great to hear because sometimes you get so caught up in all of these big activities and projects that you don't see the impact that it can make upon someone," Holmberg divulged.
This prom has created memories that will last a lifetime, and has proven that helping out with one, single event can make a huge difference.  The CDC Prom will be held at Central High School on March 15, from 6:00 to 9:00 p.m.
About the Contributor
Karleigh Schwarzl, Sports Editor
Hi, my name is Karleigh Schwarzl. This year I am your Sports Editor! I am so excited to have this role going forward! I play both soccer and softball....