OnPoint Club Embarks on College Tour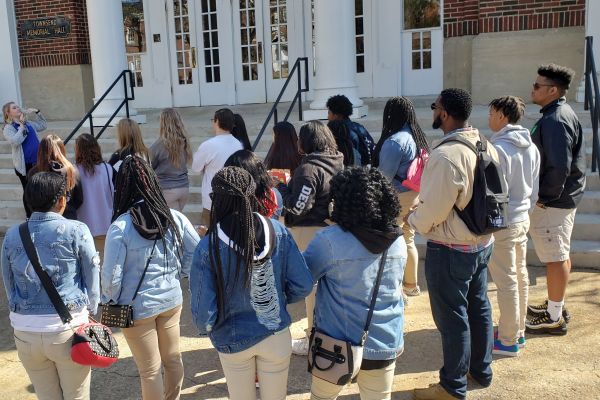 The OnPoint club organizes a college tour at least once a year to promote better futures for students at Central High School. This year, students were allowed to tour Tennessee Wesleyan University in Athens, Tennessee. Tanea Marshall, the OnPoint director, loves the location of the school. She believes that a lot of her students may not want to go too far from home for a college education, therefore Wesleyan could be a perfect candidate for some of her students. Wesleyan University has a historically registered building, making it an older college, but still a prime choice for students.  The university has over 30 majors and more than a dozen student organizations.
Mrs. Marshall was very impressed with the amount of scholarship money that TN Wesleyan awards to students. The tour guide said that nearly  everyone who is enrolled has received at least one scholarship to help cover the cost of their tuition.
"I also liked the balance at the school. As a Wesleyan school, there is a religious history that is still honored and celebrated there, and there are plenty of faith-based connections for students there. However, it's clear that this is not a requirement for attendance, and that there are many students with no religious affiliation who attend, and there are lots of options for them to be involved in campus life also. The faith aspect is important to the school, but it doesn't seem like it's being forced on anyone," stated Marshall.
Many of the students who went on the trip enjoyed being able to see more than one college campus, since this would give them more choices before their high school career comes to an end.
"Getting to see different colleges gives you a different view of college and helps you determine which type of college students want to go to," concluded Junior Amelia Garner.