Central Students' Guitar Designs Are on Display in Downtown Chattanooga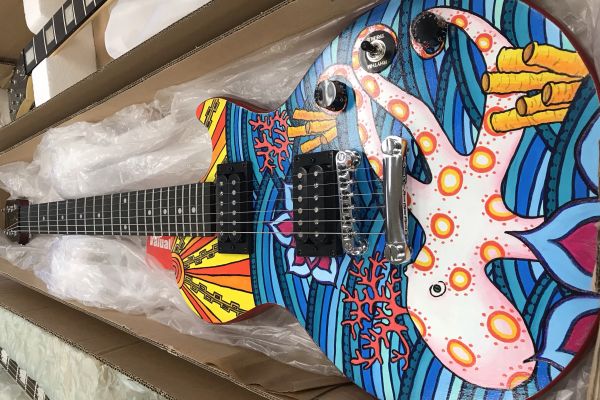 Central High is home to a multitude of clubs and groups that possess abundant talent. One group that excels at their subject field is Central's art program. With the help of art teacher Mickey Robinson, the art class thrives. His guidance and support gives the artists confidence to embrace their ideas and execute them.
One way Mr. Robinson, also known as Mr. Rob, supports his kids is through notifying them about  competitions. He is quite passionate about art and the purpose of it.
One recent competition art students had the opportunity to apply for was a hand-painted guitar design contest. The contest was sponsored by Epiphone guitars, Dogwood Arts Festival, and Songbirds Guitar Museum. Over 100 students turned in applications to compete in the competition. They had a template and drew what they would paint on the guitars. Epiphone picked 20 applications thought to be the best designs and donated guitars to the chosen students.
"The Epiphone guitars were only giving away 20 guitars to paint, and those guitars went to schools anywhere from Chattanooga to Knoxville. There were about 100 entries. I thought maybe we would get one or two guitars, but we got five, a whole quarter of the guitars given away," Mr. Rob affirmed.
This is the first year that Central art students entered the contest. Nine students from Central entered and five received guitars to paint. Sophomore Emily Bradford, juniors Danae Wnuk and Jade Durham, and seniors Deanna Wnuk and Cassidy Dummer were the five entries who were selected as winners. They all won a certificate to purchase the supplies they would need to paint the guitars. Along with receiving the guitars and money for supplies, they were also awarded tickets to a music festival in Knoxville called "Rhythm N' Blooms."
The Wnuk sisters both have a passion for art, and were excited for the opportunity to share their  creations through the contest. They both included some form of the ocean in their designs.
"I used an ocean theme because I love drawing the ocean. I drew an octopus swimming. Its tentacles were wrapped around the guitar. I love using nature and things that surround me in my art," Danae Wnuk shared.
"I drew the universe, but with a whale in it. I thought it wold be interesting to do something out of the ordinary. I never entered an art competition, but I was not nervous. It was just a great way to meet other artists and be inspired by them," Deanna Wnuk expressed.
The 20 guitars went on display Monday, April 1, at Songbirds Guitar Museum in downtown Chattanooga. At the opening, Robinson and two of his students from his guitar class played a few songs. Central dominated the competition, having the most guitars from one collective school and playing at the opening. Central showed off their talent and Mr. Rob could not be more proud.
"I am very, very proud of all five young ladies; they all did a wonderful job," Robinson concluded.
About the Contributor
Abby Young, Staff Writer
Hello! My name is Abby Young. I am a senior here at Central and this is my second year on the Digest. I am unsure what I want to pursue after I complete...