The Long Process of Class Scheduling Begins For the 2019-2020 School Year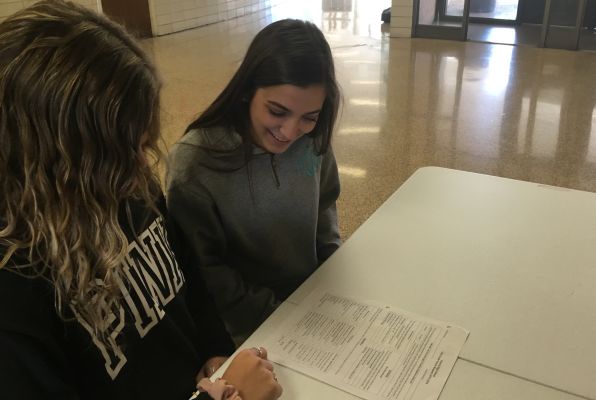 Each year, the guidance counselors at Central High work endlessly to hand-create schedules for the students, just shy of 1000, who attend. The counselors, such as Shea Vetterick, have to take much into consideration while making these schedules. The process can be long and stressful, but is absolutely necessary for the 2019-2020 school year to begin.
April, a month of transition and preparation for the end of the school year, is also the month of scheduling. The week of April eighth began schedule making this year. Course requests were handed out to students, letting them number desired electives one through five, one being the classes they wanted most.
"We have already done course requests. Once Hamilton County gets all the course codes adjusted, since we got all new codes this year, they will put it on Power School. From there, we can make them, and hopefully in a month or so, the schedules will be ready," Vetterick explained.
However, scheduling is not as easy as it is made out. In addition to scheduling current classes, the counselors have to take account for classes they may be adding or dropping. They also have to listen to what students want to be available at Central. With the most popular classes at Central being Bright's technological classes, art, theater, and forensic science, the counselors will have to focus in on scheduling those classes. They also have to pay close attention to feedback from students.
"I think the range for the classes offered is somewhat lacking. I want to see more creative, arts classes, and more funding for them too. Overall, I just want elective freedom," Sophomore Anthony Veteto vocalized.
"I would love to have more fun AP classes, like psychology or forensics, because they are fun and inspire the student to learn more," Junior Elena Salgado stated.
As of now, the electives being added are unknown. However, Central will be offering academic support classes for English and Math. Also, dual enrollment might be adding Biology to the courses available for Central students. As for the classes being dropped, Central will be dropping Future Ready classes, like Bright's and King's classes. They will be moving to the Harrison Bay Learning Center. Students who wish to take these certain classes spend half the school day at the Harrison Bay Learning Center and the other half back at Central.
Overall, scheduling is not an easy or quick process. This is only Vetterick's third year of helping to plan schedules, and she is starting to understand how difficult the process tends to be.
"It is all about numbers. We have to look at class sizes, make sure there is enough room, and see if the class is being offered at that time of day. It is all one big puzzle," Vetterick reflected.
At the beginning of the 2019-2020 school year, everything will unfold. Some students might not particularly like their schedule, but the counselors try to make everything as perfect as possible. During the first week of the new school year, many people request to change their schedule. The counselors, however, work hard and try to please everyone they can.
"Not all people get all the classes they want, and that is always sad, but it all works out in the end," Vetterick reaffirmed.
About the Contributor
Abby Young, Staff Writer
Hello! My name is Abby Young. I am a senior here at Central and this is my second year on the Digest. I am unsure what I want to pursue after I complete...