Central Welcomes Three New Foreign Exchange Students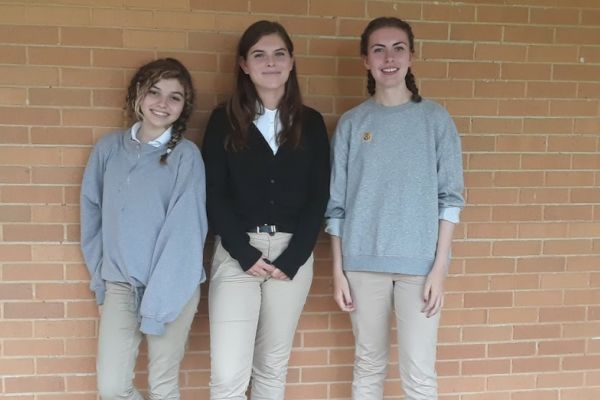 Getting used to a different environment is always intimidating at the beginning. You are always nervous and uncomfortable getting familiarized with the new circumstances. If changing lifestyles in a new setting is already challenging,  imagine adjusting to another country. This year, Central has gained three new foreign exchange students who are starting their journey studying on American soil. Anna Markstrom, May Soares, and Ida Ovesen are all excited to share their American experiences.
Markstrom, who is originally from Sweden, shared the process of her coming to the United States and the reasoning behind her choices. She also elaborated on the biggest culture shocks that came with studying in a new country. Being in another country can be very daunting, so surprising encounters are to be expected during the adjustment.
"I had the entire world to choose from as my choice, but I ultimately chose to study in America for a year to learn more about it," said Markstrom.  "The first thing I noticed when I got here is that Americans only eat with a fork. The school and schedule are different, and you all start school a lot earlier than I do."
Soares, from Brazil, shared her thoughts and experiences from the time she first arrived in America. She explained how her country's lifestyles differ from Americans', and how surprised she was to discover these differences.
"My first impression of America was how beautiful it is. I love the nature, the big trees, and the people are very nice here," said Soares. "My biggest culture shock was how different the meals are here. In Brazil, we usually have a full meal with sides and vegetables. However, in America [people] just eat sandwiches for lunch and are fine."
Ovesen, who is originally from Norway, noticed how America's architecture contrasts from her country, and explained how culture shock affected her.
"When I first got to America, I was surprised by how different the buildings are. The school buildings are nothing like the schools in Norway," shared Ovesen. "My biggest surprise coming here was the air conditioning system. It gets so cold in school throughout the day, and I was not expecting that when coming here.
Here at Central, our administrators' main goal is to make these students transition as smooth as possible. It is extremely important for these students to experience a welcoming and positive working environment while studying abroad.