College Week Gets Students Excited About Their Futures
College week is designed to get Central High students excited about furthering their education after graduation. Principal Phil Iannarone read aloud a fact about college every day of the week.
For example, on Tuesday, September 17, he said, "By 2025, 55% of jobs in Tennessee will require a post-secondary degree."
Iannarone read the facts to encourage more students to start considering college for increased job opportunities.
Teachers were also encouraged to decorate their doors to resemble specific colleges. All the teachers who decorated their door competed with each other to see who could create the best design.
At the pep rally at the end of the week, Kaya Butler, an exceptional education instructor, was announced as the winner of the door decorating contest.
Biology and forensic science teacher Tina Cotreau decorated her own door with The University of Tennessee at Chattanooga (UTC) themed decor. Since she herself got a biology undergraduate degree from UTC, she suggested the college for the students at Central High.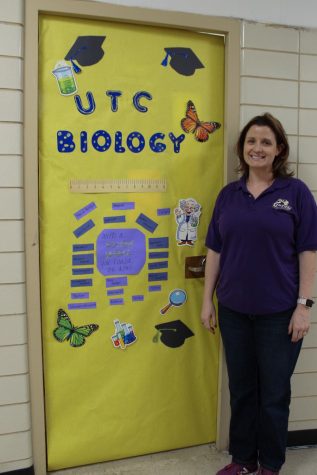 "UTC is a very special place to me, [so] of course I would decorate my door [with the theme of] UTC. If anyone is thinking about [attending] UTC, I strongly suggest the school. It is an amazing school, and I believe it was a very enjoyable college experience," shared Cotreau.
Cotreau also suggested future paths outside of college. She let her students know that there are also vocational schools and secondary education available for high school graduates looking to further their education without attending a university.
"I believe there is a stigma around going to college. I want the kids here to know that they do not have to go to college. The world needs electricians, plumbers, and whatnot," stated Cotreau
 To conclude college week, Central held a pep rally at the end of the school day on Friday, September 20. The pep rally was not just a regular Central High pep rally. Students were encouraged to wear college themed attire to represent any college of their choice. Also, the pep rally had representatives and mascots from colleges in the Chattanooga area, such as UTC. 
Central's college advisor, Stacy Alexander, supports the idea of a week dedicated to getting students excited about going to college and thinking about their future.
"College week was an excellent idea, and I hope the students at Central truly are getting excited about going to college. Even I am getting excited about college and I am not even a student! But honestly, I really hope the students see the importance of this and the importance of college. We would not be making a big deal about it if it was not a big deal," concluded Alexander.
About the Writer
Baylee Ellis, Staff Writer
Hi, my name is Baylee and I am a junior at Central this year! This is my second year on the Digest, and I am excited to continue my journey as a Staff...