Central's Rapidly Growing Majorette Team Shows Their Ambition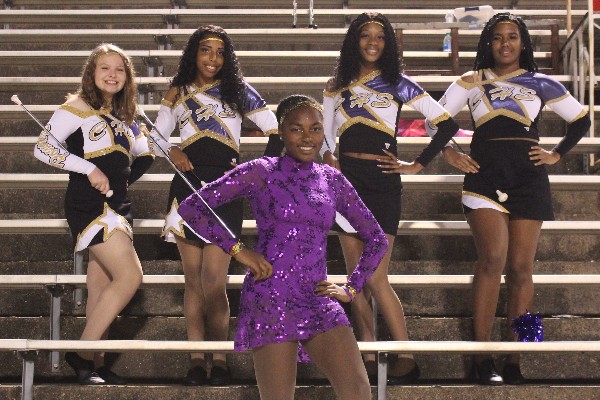 Here at Central, students participate in a wide array of extracurricular activities, outside of their required hours in school. These activities build great social, relationship, and leadership skills for students. Such pastimes are great ways for students to utilize their time, and keep them out of trouble. There is so much variety at Central that any activity is able to fit just about anyone's personal interest. One of the activities that students may be interested in is becoming a majorette. There is not a better time to discuss the matter than now, as there are a multitude of upcoming opportunities for the majorettes to shine rapidly approaching. The one in charge of the of the team is no other than 9th grade Student Counselor Karen Atkins.
Majorette Captain Corrielle Wimberly explained her ambitions and experience participating as a majorette.
"I have been doing this ever since elementary school. I am just now getting back into it my high school year, and I have been really enjoying it," said Wimberly.
She explained the process she had to go through in order to make the cut, though the process was not difficult for her at all.
"I was automatically accepted as the team captain because of my previous experience with being a majorette. I feel honored and inspired to be a great captain, and I cannot wait to perform with them," she added.
Wimberly explained what sprouted her interest in becoming a majorette, and what led her to indulging in the act at an early age.
"I became a majorette when I was younger because I needed an extracurricular activity to do while outside of school. I always liked to dance, so I felt like this was perfect for me," Wimberly concluded.
This is an exciting and fascinating year for those who are interested. This is especially true to recent additions to the team: Shamya Rakestraw, Jordan Parker, Breanna Petet, and Chloe Barbee. The school cannot wait to see what the majorettes have in store for everyone at each sporting event.