Central Plans to Pound Out Breast Cancer with Digital Arts T-Shirts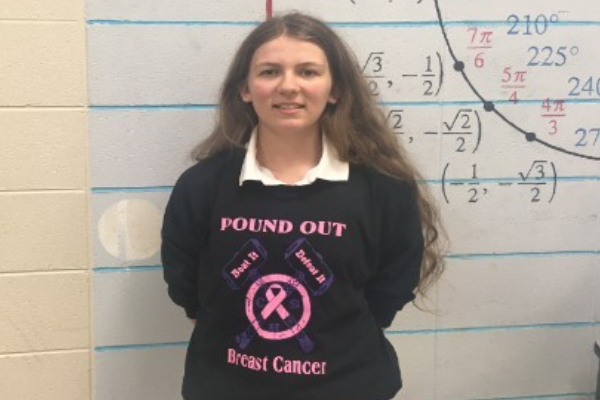 The month of October is known as Breast Cancer Awareness Month. This month is special, therefore it is commemorated by many people. For example, pink is worn in honor and support of those affected by breast cancer. Here at Central, students and staff have an opportunity to pay tribute to those who suffer from the disease.
Mr. Charles Fair, the teacher of the digital arts class at Central, decided to design t-shirts for the cause of breast cancer awareness, and has completed this project before while teaching at Howard. Five groups arranged t-shirts, and Fair sent the designs to an unnamed company to judge the shirts and pick their favorite. Hannah Christian, a sophomore at Central, created the winning design.
"When I was thinking of the design, I thought it should show the spirit of Central High. I thought of our mascot and the hammer he carries around. We are the Pounders, and our goal is to beat, or pound out, breast cancer," Christian said.
The digital arts class also does other projects throughout the year. The class works on photoshopping and touching up pictures. Along with editing pictures, the class creates many of the  designs used at the school, along with creating designs for other schools.
"Our class has done homecoming t-shirts before. We also do t-shirts for seniors, choir, and ROTC. We also design shirts for other schools, like Tyner. We work on billboards and local designing," Fair stated.
Christian put much thought into her design and was very pleased her design was chosen to be on the shirt. She has always loved art and is proud to recognize the cause of the work she did.
"I was shocked when my design was picked. I have always been intrigued by art, ever since my mom would show me picture books. I am kind of used to making other designs, since I sketch a lot. Art has become a huge part of my life," Christian stated.
The Breast Cancer t-shirts will be sold for $12 from October 22 to the end of the month. Christian's winning design will be on the front of the shirt, with the rest of the shirt in either black or gray. Students will be allowed to wear the Breast Cancer shirts on the Fridays that they are permitted to dress down. Visit Fair's classroom to purchase one.
About the Contributor
Abby Young, Staff Writer
Hello! My name is Abby Young. I am a senior here at Central and this is my second year on the Digest. I am unsure what I want to pursue after I complete...