Gifted Teacher Laura Costello Hosts a Field Trip to the Mercedes-Benz Stadium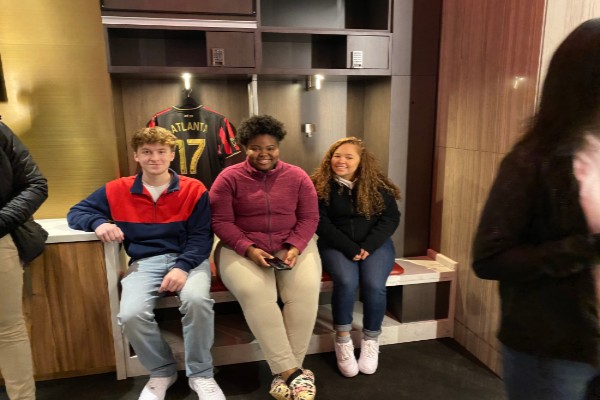 Recycling is a huge concept in society today. This past Friday, January 7, Gifted Teacher Laura Costello took 20 gifted students on a field trip to the Mercedes-Benz Stadium in Atlanta, Georgia. They had lunch at the CNN Food Court, seven minutes away from the stadium.
The students were able to see several areas of the stadium such as the locker room, where many players were getting ready for their games. They also got to see the VIP suite and the field itself. The group got the chance to learn a lot of information related to recycling and eco-friendly responsibilities.
The stadium is a LEED (Leadership in Energy and Environmental Design) building, which is just a green building certification system. A lot of things in the dome are made out of recyclable materials like artwork and the seats, which hold 71,000 people.
"It was great seeing how such an ambitious project could work solely on recycled materials and clean energy," said Junior Grayson Catlett.
The stadium is worth $1.5 billion and uses outstanding technology to manage overhead. The Mercedes-Benz Stadium construction started in May of 2014 and was completed in August 2017. It features "the world's biggest 3600 HD video halo boards for sports," says Designbuild. The stadium hosts the National Football League (NFL), Major League Soccer (MLS), along with concerts.
It has a retractable roof in the shape of a camera, which takes about ten minutes to open up. The final part of building the roof was in May of 2018. It also has an ETFE (Ethylene Tetrafluoroethylene, a chemical compound) material and a single ETFE skin supported by cable net system, according to Designbuild network.
"The astroturf is augmented with recycled sneaker pellets to cushion the blows from the athletes," said Costello.
The Mercedes-Benz Stadium has many ground breaking features, so the gifted students were very grateful to have the chance to be able to get a one-on-one tour of the building.