Central is Adequately Represented by 2020 Miss Central Court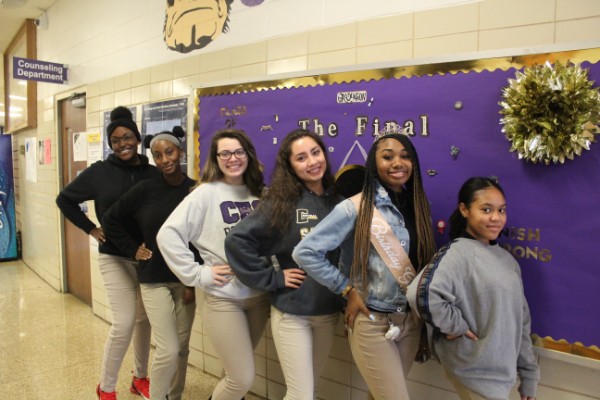 There is one class that Central High loves: the senior class; the school and teachers are constantly cheering these students on. The days are dwindling for the Class of 2020 at Central. As the seniors push through their last couple of months, Senior Day rapidly approaches. Senior Day is one way the school rewards and celebrates the seniors, as Mr. and Miss Central are announced in front of the whole school.
The students who are nominated, and the two who are elected into the positions, are great representatives of Central. They are the epitome of Central pride and spirit. The students who are chosen to be honored have excelled academically and have shown great character throughout their four years at the school.
The nominees for Miss and Mr. Central were announced on February 12. Six girls from the Class of 2020 have been chosen by their fellow classmates to enter in the race for Miss Central. This year's nominees are Brooklyn Atkins, Janai Blakemore, Cassandra Castillo, Skylar Murray, Jahnia Russell, and Bileah Sit. All the nominees have accomplished many things and are beloved by their peers.
Brooklyn Atkins is involved at school through the JROTC program. She is a member of the Drill Team and the Sabre Team. She participated on the Sabre Team while escorting the homecoming nominees during the football game. Atkins is very passionate about this program and her school. She loves attending Central and is excited to represent it.
"Some things I love about Central are the environment. It is not the most diverse school, but it has a lot more culture than other schools around us. I also love our JROTC program, and I love some of the amazing teachers I have encountered at this school that helped shape me as a student," stated Atkins.
Janai Blakemore volunteers at the Chambliss Center for Children, and is the president of the class. She is looking forward to Senior Day, and all the festivities that go along with it.
"I am very excited to dress up and be celebrated on Senior Day. I can't wait to enjoy this moment with the other amazing classmates on the court," Blakemore said.
Cassandra Castillo is involved in many leadership roles across the school. She is very honored to be nominated and is eager to represent both Central and her fellow classmates, as one of her main goals is to get along with her peers. She plans to attend the University of Tennessee to study journalism and minor in Spanish or history.
"I have taken leadership roles these past couple of years such as associate and copy editor of the Digest, vice president of the National Honor Society, president of Ruriteen, and soccer captain. My grades may have also had an impact on the decision, and I also like to get along with everyone. I feel honored to be nominated for this title. I really think that Central is a great school; I've had amazing memories here, so this pretty much seals my experience here," Castillo said.
Skylar Murray is the cheer captain at Central and has participated in the cheer program since her freshman year. She was also a member of the FCA, the Fellowship of Christian Athletes, her freshman and sophomore years. She also was a member of the choir and National Honor Society. She loves supporting Central in any way she can.
"I show my school spirit by going out to all the games and just being there to encourage the players. It feels good [to be nominated] because it makes me feel like I am at the top of the class," Murray explained.
Jahnia Russell is also involved in the JROTC program, along with Atkins, as captain of the Drill Team. She was also a member of the choir her freshman and sophomore years. Russell owes it all to her fellow classmates, as she is beloved and recognized by many.
"I feel honored. I just want to thank my fellow classmates for giving me an opportunity like this," Russell admitted.
Bileah Sit is involved in JROTC with the Raiders and Drill Team. She is a member of both National Honor Society and Beta Club. She is also involved with the Ruriteen Club. Sit is excited to be nominated, but is also ecstatic for her fellow nominees, who are her friends.
"I feel very grateful to be nominated; I'm a people person, and I love going out there and getting to know people, so it's nice to know that people feel good about you too. I am very excited for my fellow nominees. The girls I'm running with are all amazing people and deserve to win Miss Central. Unfortunately, we all cannot win, but I do wish luck to them all and support every single one of them. I have known these girls for a few years now, and even though we may not all be close, I have grown to love them. I believe we are all respectable and intelligent young women," Sit declared.
All the girls nominated for Miss Central are worthy of the title and are enthusiastic to celebrate the day and their fellow contenders. Senior Day is a day for all to remember, especially the ones on the court. The school will vote on who they want to represent Central as Mr. and Miss Central on May 1, and Senior Day will take place on May 8.