Jacob Sylman and Jahnia Russell Named King and Queen of 2020 Military Ball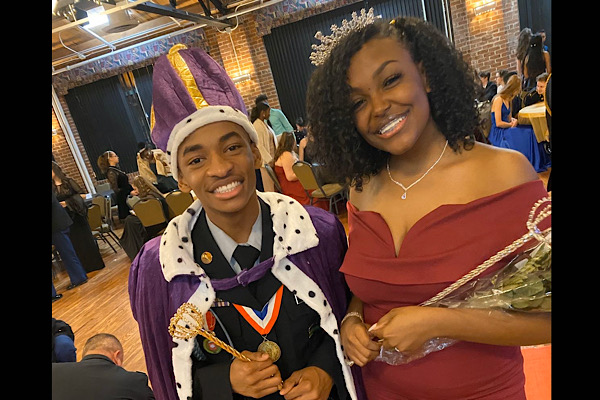 The Central High School JROTC program organizes a ball held specifically in honor of its cadets. The goal of the event is not only to celebrate the JROTC students, but to allow them to have a night of fun together as well. This lively annual occasion is known as Central's Military Ball held every winter season.
This year, the traditional ball was held on February 21 at the Bessie Smith Cultural Center in downtown Chattanooga. Tickets were sold for $30 individually and $60 for couples to JROTC cadets and their guests. A few days before the ball, JROTC cadets were able to vote at school for the military ball king and queen. This year, the royal honors were bestowed upon Seniors Jacob Sylman and Jahnia Russell.
"My favorite part of the ball was being able to dance with my friends. It was our final ball, and we were the ones who made the decisions on how the ball went, and it was great," stated Senior Jacob Sylman.
The ball was organized by JROTC students and approved by their program supervisors. After the cadets were honored for their program accomplishments and involvement, the king and queen were announced. Both winning cadets were ecstatic, honored, and surprised to have won the favor of the majority of their fellow JROTC cadets.
"I'm very honored that my fellow cadets found me worthy of being the queen. After four years of hard work and dedication in JROTC, it really means the world to me," said Senior Jahnia Russell.
Although it is only held once a year, the military ball is a great chance for Central's JROTC cadets to come together and have fun with each other before the year ends. They are able to celebrate the accomplishments they have achieved and friendships they have made with one another over the years.