Central Band Students Participate in East Tennessee State Band and Orchestra Association Solo and Ensemble Concert Festival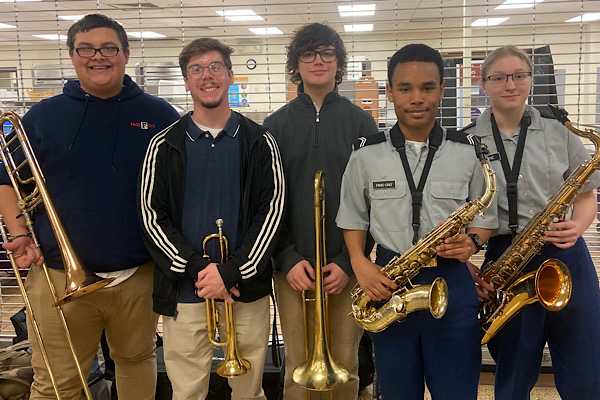 Every year, the Central Band prepares for the ETSBOA (East Tennessee State Band and Orchestra Association) Concert Festival to put their skills to the test. The students can either perform a solo, that includes piano upon their request, or a collaborative ensemble with other students, which consists of up to five students. Select Central band students went to Hixson High School to perform in the festival on Saturday, February 29.
Five Central students got the opportunity to participate in the event. Both Freshman Erickson Frias-Cruz and Sophomore Sydney Stone performed clarinet solos. Central's other three participants were part of a quintet; they were accompanied by two students from Ooltewah High School. In this collaborative performance, senior Grant Scutt played the trumpet, Junior Triston Teague played the baritone, and Junior Alex White played the tuba. This was each student's first time participating in the ETSBOA Concert Festival.
"I was actually really excited to go because the last two years I had auditioned, I had been just shy of making it," Scutt revealed.
The band was diligent about making sure they were adequately prepared for their performances. In the days leading up to the festival, the students prepared either in class, to sharpen their skills, or they made time to practice after school.
Students' performances are scored on a scale from one to five, with one being "superior," two being "excellent," three being "good," four being "fair," and five representing "poor."
"Students are given a score for multiple categories including intonation, preparation, overall musicality, and professionalism," stated Band Director Joseph Archer.
All these scores are averaged together to deduce the overall score. Luckily, all five students received a superior rating.
Three songs were played; Frias-Cruz peformed "Adagio" from the Mozart Clarinet Concerto, Stone performed "Salut D'Amour" by Edward Elgar, while the brass quintet preformed "A Moment" from Roger Boutry's Prelude, Chorale et Fugue.
Other schools were at the event such as Ooletwah High, Hixson Middle and High, Red Bank High, Polk Country High, Bledsoe Country High, Hunter Middle, the Center for Creative Arts, Lookout Valley, East Hamilton High, and home schooled students as well.
"It's a great chance to talk to people that you don't see often you get to sit next to in rehearsal," said Scutt.
All the students were grateful to be able to partake in such a big event, and they hope to attend next year as well.
"I was super excited, and I'm so glad I got to take part in it. It really was a great experience," concluded Scutt.