Central High School Hosts 2020 Student Talent Show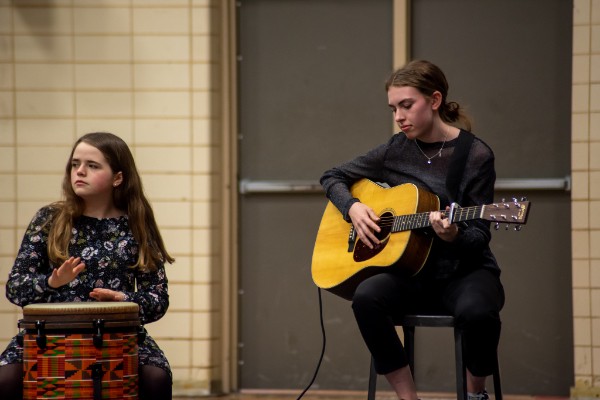 As the academic year is coming closer to an end, global interference has brought cancellations and disturbances to the school calendar. Despite the obstructions and fears that were brought with the spread of the COVID-19 pandemic, Central was still able to hold the annual student talent show on Friday, March 13. Students had been working hard to perform in front of their peers. Sighs of relief were shared by performers when the announcement was made that the school would be allowed to continue with the show.
"I'm really glad we were able to still have the talent show," expressed Katheron Latham, Central's choir director, "…even though the day of the talent show was a bit stressful, [as everyone was] getting ready for being out of school for two weeks due to the Coronavirus concerns."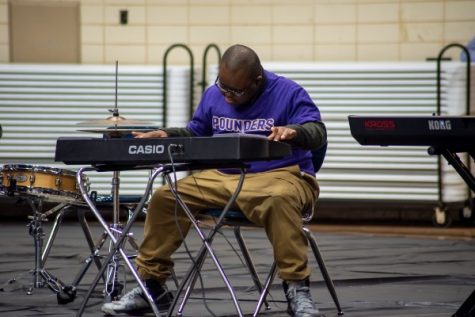 Auditions for the talent show were held on Thursday, February 27. In order to perform in the talent show, students were mandated to participate in auditions.
Before auditioning, however, students were also required to procure one recommendation from a teacher and to complete a submission form which gave a description of their desired act.
After these requirements were met, students were then able to perform in the choir room in front of a panel of judges. The panel consisted of faculty members Principal Iannarone, Kevin Parsons,  Casey Hale, Allie Renfroe, and Joseph Archer. There was only one student judge, Senior Tyra Moore, the Central Voices President.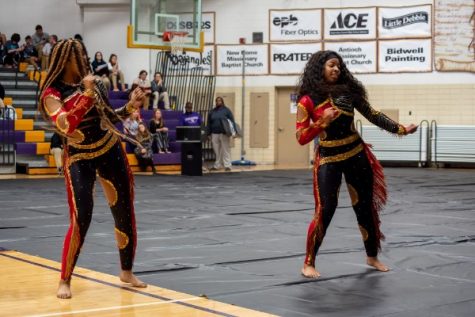 Tyra Moore was also an emcee for the show along with Genesis Harris.
The show began at 1:30 p.m., and the first act of the show was Senior Michael Terrel, who danced to a mix of songs.
Next, Moore and Harris introduced Sophomore Leah Green as the second act, who sang "Trampoline," by SHAED.
The third act was peerformed by Freshman Rhyanna Tipton, who sang "Halo," originally sand by Beyoncé.
After Tipton' performance, Senior Pierre Joseph performed his own piece, titled "Courage," accompanied by his keyboard.
The fifth act introduced was Anna Markström and May Soares, who are both juniors. Markstrom played guitar while Soares sang "Bubbly" Freshman Sarah Katheron Latham accompanied their performance by playing the African drums.
Sarah Katheron Latham then followed Markström and Soares with her own act. She sang "On my Own" from the well-known play "Les Misérables." Mrs. Latham accompanied her on the piano.
The seventh act was another sophomore student, DeWayne Middleton, who sang "Signed, Sealed, Delivered,"  by Stevie Wonder while playing on Central's Jazz band piano. Ronald Dupree assisted Middleton on the drum set.
The eighth act was performed by two freshmen girls, Lakiyah Byrd and Jakiyah Robinson. The girls danced to a mix of songs.
The final act of the show was a group basketball performance by Seniors Tavarus Grayson, Isaiah Hayes, Kobie White, and Junior Garnett Hubbard.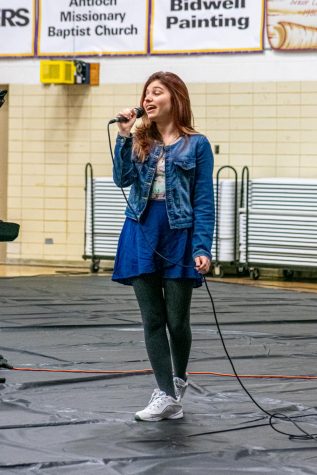 Contemporary issues instructor Duncan Kelley and government teacher Scott Phillips were in charge of the sound for the talent show, while Mrs. Latham was the overall coordinator of the event..
"I would like to thank Mr. [Iannarone] for allowing us to have the school-wide talent show during school hours. Many other schools are not allowed to do this, and have to have talent shows in the evening," said Latham. "We also appreciate Coaches Shurette, Bloodsaw and Carter working with us to allow us to have the Talent Show in the gym."
All in all, the school enjoyed each of the performances, and as usual look forward to the event every year. The talent show was a great way for students to take their minds off of the ongoing COVID-19 crisis before all Hamilton County schools were closed indefinitely.
About the Contributor
Danae Wnuk, Staff Writer
My name is Danae Wnuk and I am a senior at Central High School. This is my first year as a staff writer for the Central Digest. I enjoy researching new...