September is National Suicide Prevention Month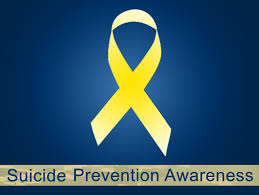 With all of the establishing information and events of September comes a somber reminder of a prevalent issue around the world. September has been recognized by many as National Suicide Prevention Awareness Month, with September 6 through September 12 additionally serving as National Suicide Prevention Week.
Both statistics and anecdotes convey suicide as a growing threat in the United States. The National Center for Injury Prevention found suicide as the tenth most common cause of death across all ages in the United States in 2018; it was the second most common for people aged ten through 34 years. However, to many Central students, a more immediate conveyor of the problem would be the devastating passing of Jackson Smith that occurred in June.
"The Central Counseling Department goes above and beyond to make sure all students receive the help they need," said Senior Counselor Shea Vetterick. "Whether that is just listening, problem solving with a student, helping form an academic plan or calling Crisis when life feels unbearable. Suicidal ideation is a real struggle among young adults. It can sometimes seem as if the heaviness of the problem at hand will never lift. That's why it is important to reach out for help. Students, you do not have to fight this battle alone. You have people who care about you and see your value."
With a fun-loving and lighthearted classmate gone too soon, many Central students have enhanced their understanding of the serious subject, one of them being Senior Ashlee Smith.
When asked about the topic, she responded, "I feel that the issue of mental health is vital for students. It is important that students feel like they can talk about what they are dealing with and that we are dealing with such illnesses."
"I am always willing to help anyone in need," she continued. "I have dealt with this personally and have felt the indescribable sorrow from losing someone to this. I would not wish this upon anyone."
Listed below are some resources for struggling readers who want to reach out for help.
National Suicide Prevention Hotline — 800-273-8255
Crisis Text Line — text TALK to 741-41
Additional resources listed on the AFSP (American Foundation for Suicide Prevention) website.
Remember, you are not alone.