It is Time for Model United Nations to Start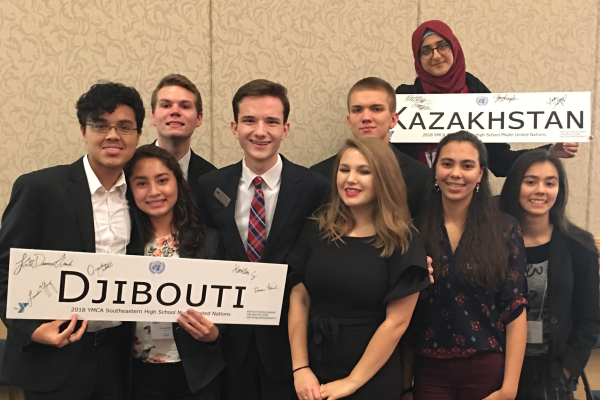 This year, gifted teacher Angie Hentz is the teacher in charge of Model United Nations, also known as Model UN, which is sponsored by the Young Men's Christian Association (YMCA) Civics group out of Nashville, Tennessee.
"Model UN provides a diverse learning opportunity, a chance to shine among other high schools and provides great team work. Students work together with one main goal or purpose. Our team is competitive and I believe in them their capabilities. I am proud and honored to get the chance to work with such a talented group of individuals," shared Mrs. Hentz
Model is is an extra-curricular activity in which students model delegates to the United Nations and simulate UN committees. Delegates choose a country to represent, and ss a team of two to four students, delegates compose a proposal resolution paper, complete with a solution for a certain issue they choose. The team presents their proposal to other high school or college students. They are given roughly three minutes for their speech; then, they hold another three-minute session focusing on answering any questions for their proposal. The process acts similar to a debate. Awards are also distributed at the end of the event based on group and individual performance.
In previous years, students would meet up in person, but due to COVID-19, the conference will happen differently this year. All conversations and presentations will be conducted through Zoom meetings. These Model UN meetings will begin on Friday, November 13, and conclude on Sunday, November 15.
"I [think that] Model UN would be a fun thing to do with friends and would look good for college," said Junior Zane Ferrying when asked why he wanted to participate in Model UN.
Central's delegates for this Model UN cycle are Alona Allen, Blake Catlett, Grayson Catlett, Zane Ferrying, Jessyca Foster, Anna Frazier, Tongun Gore, Jack Graham, Brandlyn Jones, and Sydney Stone. Model UN is an amazing opportunity for students to understand how the United Nations operates.