Central's Fitness Classes Face Hurdles with Distance Learning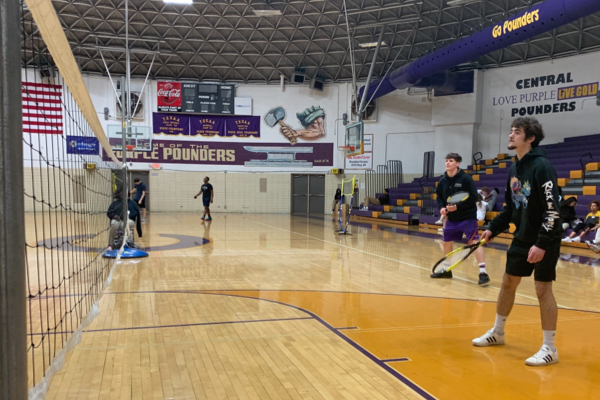 As most would expect, the fitness classes at Central are having to adapt to the changes of having to do school at home. Here is a look on some fitness coaches perspectives.
Coach Gary Bloodsaw, who instructs weight training and physical education (P.E.), shared that his students that are learning from home are doing a great job of adapting to the situation. Both of Bloodsaw's classes are doing personal fitness training and anatomy training.
"Nearly all the students are doing a great job, and I can see development occurring," Bloodsaw said about his virtual students.
Bloodsaw's weight training students are not able to utilize the weight room on the days they are distance learning. Students at home only have their own bodies to use as weights, but some of his students are getting their own weights so they can start incorporating them into their routines.
Virtual P.E. students cannot join their in-person peers in team-based athletic games, but if they have any sport equipment at home, they can work on improving individual skills.
Coach Bloodsaw believes that virtual fitness class could be either easier or more difficult for students. However, he noted that having students all in one place and having the ability to directly interact with them improves the class overall.
Coach LeeAnn Shurette is another athletic instructor at Central. For her classes, she utilizes applications to help her students remain active; FitOn has become a favorite among Shurette's students. The workouts do not require any equipment and do not require much space. She will have her virtual students start a specific workout together and follow along with the personal trainer.
"I'm thankful we are still able to be active. I think being on Zoom has had a negative effect on all of us both physically and mentally so, our main focus is moving our bodies in P.E., weight training, and wellness," Shurette shared when asked her opinion on school being virtual.
Shurette shares Bloodsaw's opinion that being completely online does not necessarily make it as difficult as when students are split between campus and home. She shared that virtual school was out of her comfort zone and has been a learning experience for her.
The difficulties of this 'new normal' have not negatively impacted Bloodsaw's and Shurette's students. They are working hard each day, whether they are on campus or at home.