Breanna Long Named Winner of EPB ArtSpark Contest
On Friday, March 12, Sophomore Breanna Long was announced as a winner of the EPB ArtSpark contest. Out of 166 submissions, Long was one of ten that were selected as a winners.
In 2017, the Electric Power Board and the River City Company partnered to create the ArtSpark contest in hopes of inspiring high school artists to create meaningful artwork and to brighten up Downtown Chattanooga. Since the contest's inception, winning submissions have been transferred onto vinyl and wrapped around EPB owned electrical boxes stationed throughout the urban area of downtown Chattanooga.
The entries were judged by a committee composed of representatives from Public Art Chattanooga, CDOT, River City Company, EPB, downtown residents, downtown businesses, artists, and other stakeholders. The artwork was evaluated based upon quality, style of design, ability to contribute to community vitality, and other salient factors.
Long began on the project mid-November and finished her work on December 18. She composed three prototypes before the finished product and spent a week simply working out details of her design.
"… it is always rewarding to see students receive recognition for their creativity," said Melissa Hoesman, Central's art teacher.
Hoesman went on to praise Breanna for her original, independent design.
"Breanna's design can be individually interpreted and appreciated for its display of a kind and sensitive human gesture," said Hoesman.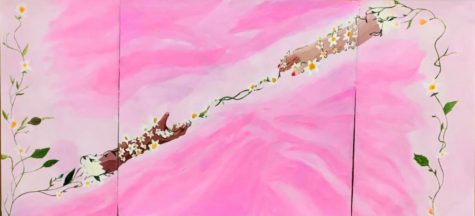 "The main inspiration for my piece are the racial tensions that have been going on around the United States…especially in our community," Long explained.
Long elucidated how her personal experiences have influenced her art creations.
"I know that this is a subject means a lot to a large group of people, and it has impacted my family as well. My seven year old little sister and I are adopted…My little sister is an African American growing up in a Caucasian household. In the past year or so, she has asked questions such as 'Why is my hair different?' and 'Why isn't my skin as light and pretty as yours?' and other questions along those lines. My parents have told her that she is just as beautiful, intelligent, and capable as any of us- no matter her differences- but it doesn't stop the questions and worries. Through my piece, I want to inspire change. I want to make this world one that my little sister, and all the little girls and boys like her, no matter their race, can grow up knowing that they are just as valuable as anyone else. I want them to know that their hair, no matter if it is curly or straight, light or dark, is just as beautiful as anyone else's, and that their skin no matter how light or dark, rough or smooth, is just as amazing as anyone else's," she said.