Destiny Smith Selected as Class Representative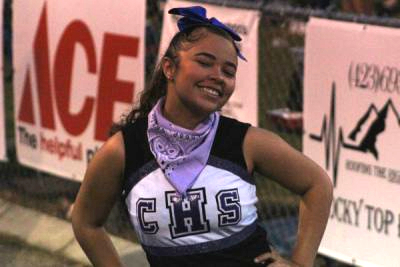 As graduation approaches, Central seniors and staff choose a class representative to give a speech alongside the faculty representative, salutatorian, and valedictorian. The class representative embodies their title, being an integral figure to their classmates and school. This year, that role is being filled by Destiny Smith.
Smith has spent three years as a Central cheerleader, three years as a band member, and four years as class president. She was named as Homecoming Queen in October and is on the Miss Central court. Additionally, she has been involved in multiple extracurricular groups, such as Beta Club, National Honors Society, YoungLife, and the Fellowship of Christian Athletes. She has also volunteered for alumni events.
"I was honestly so shocked that I was selected to be the class representative," Smith recalled. "I have had the best opportunities this year and have been honored to participate in so many things within the school. I am so grateful that the senior class sees me as a person who they would want to represent the class."
Erin Bell, fellow senior, cheerleader, and friend of Smith, was also pleased to see her selection.
"I believe Destiny deserves the title because she is a very hard working student and is a great example of a leader. I have known Destiny since elementary school, and she has impacted my high school years by being a part of my support system and being a great friend," said Bell.
With the nomination, Smith will be able to give a speech alongside other selected students at the graduation for the class of 2021, set to occur on May 18. She gave her thoughts on the upcoming graduation as well as what comes after.
"I'm nervous for graduation because we are all starting a new chapter in life. We have pretty much grown with each other the past four years, and now we're all going our separate ways," she explained, adding that she hopes for the graduation to be "semi-normal…considering [COVID-19] restrictions."
Regardless of the graduation's circumstances, Smith has proven herself as a determined individual that has left a strong impact on the Central community throughout the last four years.