Sophomore Sarah Katheron Latham Named District Ruriteen of the Year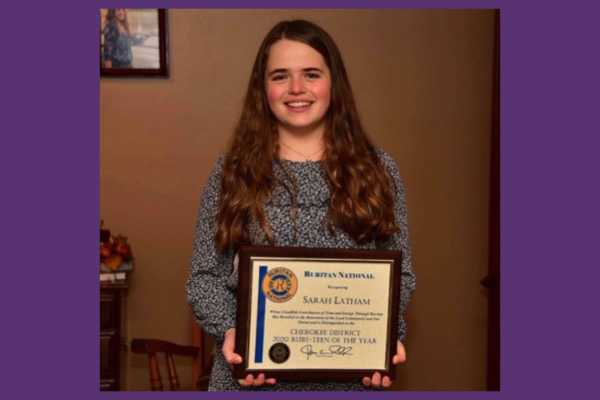 Sarah Katheron Latham joined the Ruriteen club as a freshman. This year, she serves as the President of the organization.
The Central High Ruriteen club is a community service organization which serves as a branch of the National Ruriteen club. Over the past two years, the Central High School Ruriteen club has received multiple grants that have been used for service projects around the school and Harrison area. These projects include paying off school lunch debt, hosting the Exceptional Education prom, raising funds to decorate a room at T.C. Thompson Children's Hospital, supplying items for a toiletry closet for a local elementary school, providing groceries for deserving families in need, and beautifying the school campus.
"I love being a part of the Ruriteen club," shared Latham. " I now have a tangible way that I can encourage students and alumni to help serve some of the needs we have around our school and community."
At the beginning of the school year, Latham was encouraged to fill out the application for Ruriteen of the year by the club's sponsor, Donna Rast.   Districts of Ruritan National name Ruriteens of the Year from all Ruriteen students in the district.  The Harrison club is in the Cherokee district.
"The Cherokee District contains 6 zones, 14 Ruritan Clubs, and 5 Ruri-Teen Clubs, for a total of membership of 712," explained the Cherokee district of Ruritan National.
The district chooses a student who embodies the qualities of the Ruritan club in everything they do.  Latham was announced as Ruriteen of the year soon after turning in her application.
"Sarah Katheron embodies what a Ruriteen member – and a Ruritan member – should be. She is constantly giving of her time and talents to make our community a better place to live. Without complaint, she takes on challenges to help out in any service project we have. As the club sponsor, she has made my position easier with all that she does. I am thrilled to have her as a part of our club and could not think of a more deserving person to receive this award," Mrs. Donna Rast said when asked about having Latham as a part of the Ruriteen club.
The Ruriteen club is a truly outstanding club that encourages students to help out their school and community.  If you would like to be a part of this organization contact Rast at rast_d@hcde.org.
About the Contributor
Bailey Moore
Hi everyone!! My name is Bailey Moore, I am a junior, and this is my second year of being a staff writer here at the Central Digest. I am so very excited...