Two Central Students Are First in County to Earn Green Energy Certification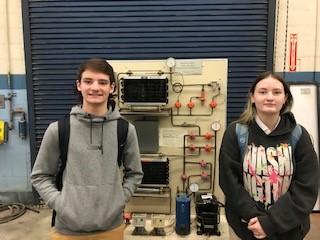 Two of Central's Future Ready students have been certified in green energy: Sophomores Amaya Landess-Feldman and Cruz Johnson.  The students spent months studying various methods of green energy and recently completed a test and received this certification.
The Harrison Bay Future Ready Center heavily focuses on the future of students and the environment.  Completing the green certification provides students with the knowledge of various renewable energy methods. The goal is to make water conservation, solar power, and electrical efficiency the new norm, as everyone works together to make this Earth a better place for the next generation.  
"Going green is something I've always thought about… I want to learn more so I can inform others about it," Landess-feldman expressed.
Efficiency is key at Future Ready. Almost no useful material goes to waste, and students are encouraged to make the most out of what they can.Many of the classes are hands-on, so working together with your peers on projects is a major part of the Future Ready Institute. A few of the projects are build projects, such as, chicken tractors, solar panels, wiring electricity and building walls. 
Certified students should have an easier time looking for jobs, and getting accepted into colleges.
"The Future Ready program is great," commented Johnson who is hopeful for the future of the program.  "I'm hopeful that the green certificate will allow me to go to my dream college."
The Future Ready Institute has been functioning at the Harrison Bay Learning Center for two years now. Ever since the institute was established, many Central students have been offered classes in the STEM and business field. The institute is a very hands on and interactive learning environment which also allows students to learn and gain experience in many different occupations. Students that are interested in working in a field such as architectural design, robotics, computers, carpentry, plumbing, and electricity are highly encouraged to attend. There are many opportunities for jobs out of the Future Ready Institute, and the selection of classes that are offered to the students is astonishing. The Future Ready program is offered to incoming Freshman. Those who attend the institute attend for two out of four periods of the day, and students attend their home school . Students from Central High School and Ootlewah High School collaborate on projects and work together to complete their tasks. Future Ready sticks by its name, and hopes to create a new class of students that are ready for the future.