Options Are Available for Valentine's Day on a Budget
As we all know, Valentine's Day is the time to gather with your loved ones and show how much they mean to you. Whether you are celebrating with your friends or significant other, giving gifts is a perfect way to show how much you love and care about someone. Sometimes picking out gifts can be pretty difficult; especially if you're on a budget. So to lessen the burden on those who are worrying about getting the right thing. There are budget-friendly ideas that are guaranteed to make that special person in your life feel the love of this Valentine's Day season.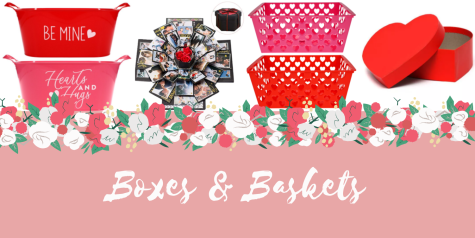 Sentiment bucket- $1  Explosion box- $5.99  Heart Basket- $1  Heart-shaped box-$5.00
Whether you have trouble wrapping gifts, or you want to use something other than wrapping paper, these adorable boxes and baskets are the perfect alternative.
Heart confetti – $1.25  Whimsical Light-up Roses – $1.25 each  Heart LED lights $1.25
Box Decorations
If your basket or box seems a little bare, adding some decorations is always the right move. It will not just make the gift more aesthetically pleasing, it will also make the overall gift look more extravagant. This heart-shaped confetti (left) is a lovely way to make the inside of your container more appealing. Another way to make your gift stand out is to brighten it up, by using glowing roses or heart LED lights are two amazing options. There are so many ways to incorporate these decorative pieces.
Gifts for him
It does not have to be expensive to catch his eye, here are some gift options for that special guy.
Cologne is a gift almost every guy will appreciate. Every Man Jack is known for its outdoor-inspired scents. It has notes of cypress, cedar, citrus peel, and has a lingering vetiver finish. If you aren't sure about what kind of cologne he likes, then a cologne sampling box from Goodfellow & Co is perfect. This variety pack includes four half-once spray bottles and is great for traveling. Ladies, we know that skincare products are something men probably aren't going to buy for themselves. They may not know it right off the bat, but they'll appreciate it in the long run.
Pull-up bar- $22  Heyday Bluetooth speaker- $20  Timberland leather wallet- $20
If your significant other is working out at home a lot, then they need a pull-up bar. It can be difficult to target certain muscles with a limited variety of equipment. It attaches onto the top of your doorframe without getting in the way of your door opening and closing.
A lot of men have earbuds and headphones, but a mini portable Bluetooth speaker? Probably not. It's waterproof and comes with a loop so it can be attached to your backpack or anything else.
A guy getting a new wallet will make them feel like a million bucks. A lot of people don't replace their wallets as often as they should, resulting in their wallets looking beat up. You could even put a handwritten note or tickets to a game in there as a surprise to make them smile.
Gifts for her
It does not have to be expensive to show you care, here are some gift options for that special girl.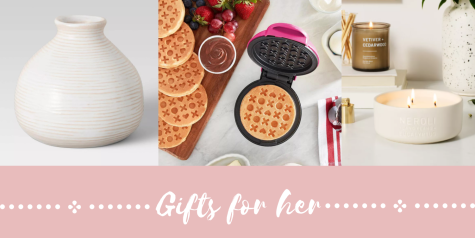 Artisan Glazed Bud Vase- $10  XOXO Waffle Maker- $10  Scented Candles from Target
Almost every girl would love receiving roses on Valentine's day. This chic vase from Target looks beautiful with a long-stemmed bouquet of roses. If this one doesn't catch your eye, there are many other vases you can buy for less than $10. You can also take a jar and fill it up with little notes. Each note could be a handwritten reason why you love them. If you and your partner are a big fan of waffles, then this mini waffle maker is something she'll put to use. Even better, you could surprise them in the morning with waffles already made, and have a romantic breakfast. Speaking of which, what is more romantic than candles? These quality, yet budget-friendly candles from Target would be an ideal gift for her. There's a wide variety of scents and price ranges, fitting for anybody or wit any budget.
Preserved rose and necklace- $25  Weighted Blanket- $25  Bath bomb gift set 6pcs- $17
You can not go wrong with this necklace. Engraved on it, are the words, "I love you" in 100 different languages. It is an impressive gift that will definitely meet, if not exceed her expectations. Another excellent choice is a weighted blanket. This will be the gift she never knew she had always wanted. It applies a deep, calming pressure to help you fall asleep faster and wake more rested. Relaxation is vital for everyone. These cruelty-free bath bombs are blended with natural essential oils, and moisturizing ingredients to keep skin smooth. Girls can never have enough of these.