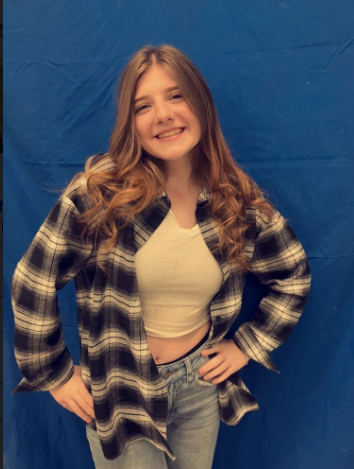 Jordin Marler is a sophomore who plays volleyball for JV (junior varsity). She is a focused and determined individual who is passionate about her goals and aspirations. She is a hard worker, juggling both her studies and her part-time job at the Haunted Hilltop for the month of October.
"Working at the Hilltop gives me an opportunity to scare people and have fun." She commented on her job
Her love for volleyball is evident in her enthusiasm for the sport and her appreciation for her teammates. She likes hitting and serving in volleyball and she plays front row, back middle, and all around. She started playing when she was 11 years old. She played for the YMCA for a year and started playing for Brown Middle School.
She is excited about pursuing a career in nursing, particularly in the field of neonatal care, and is willing to put in the effort to make her dream a reality.
In her free time, you can find Jordin eating and sleeping, her favorite food being Mc D's. Jordin enjoys spending time with her boyfriend and her many pets, showing her love for animals. She has 4 dogs, Skylar, Luke, Jesse, and Lincoln; and she has 4 cats, Binx, Jasper, Nala, and Simba. She is an all-around kind and caring person who is always looking to learn and grow.
She is dedicated to her studies with her favorite subject being biology with Mrs. Braisted. She is a 3.0 GPA student with good grades that she has to maintain to play volleyball and has a positive outlook on life.
Her favorite quote is "Living is the art of getting used to what we didn't expect" by Eleanor C. Wood.
"This quote gives me a happy feeling of how you need to expect the unexpected in life and the unexpected things that happen in life can be actually a blessing in disguise," stated Jordin
Her love for science and biology shows her curiosity and desire to understand the world around her. Jordin's love for R&B music reflects her soulful and passionate side. Being left-handed is just another unique trait that makes her stand out. Her hard work on and off the volleyball court has surely paid off, making her a true sportsman.
Overall, Jordin is a great volleyball player and an even greater student and friend.