An Inside Look at the Upcoming 2019-2020 Boys Basketball Season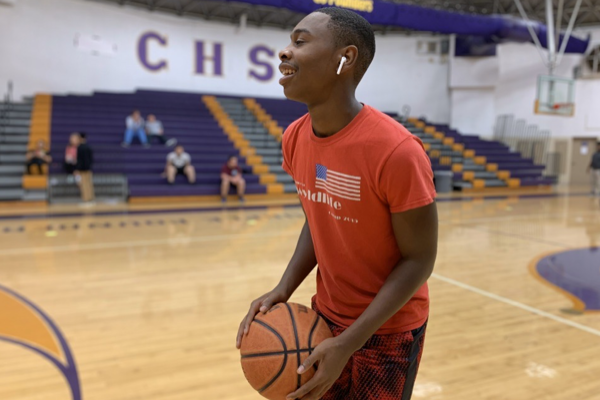 As the 2019-2020 season commences, the Central High School boys basketball team has been working tirelessly to improve during the off season. With only three returning varsity players, the team is mostly starting from scratch. Last year was a big rebuilding year for the team. Rick Rodgers, which was the previous coach for the Pounders, had coached for 29 years. Kantonio Davis is stepping in and building a foundation for the Purple Pounders to succeed.
Davis left from St. Luke's Episcopal in Mobile, Alabama. He had coached the team to win the Alabama Class 2A runner-up finishes in 2016 and 2018.
While Davis has had many accomplishments in the past, he is so excited to coach the pounders this year. This season there is not just one player that truly stands out. Each player will be key to the team at some point this season, helping out the team as a whole.
"I am expecting our hard work to pay off. So, in turn, we will be undefeated at the end of the season," stated Senior Tavarus Grayson.
There are many seniors on the varsity team this basketball season. For example, Alphonso Few, Blaine Turner, Orlando Gearing, Kobie White, Tavarus Grayson, Isaiah Hayes, Malcolm Tutton, and Cedric Williams. As of now, no one has been named captain.
In the words of Coach Davis, "This title is earned. I haven't seen anyone that consistently wants the responsibility of being a captain."
Going into this season, Davis plans to change the culture of what basketball is at Central High School. A main focus this season is going to be trust. Whether it is between players, coaches, or the process.
When there is a coaching change, for instance, from last year to this year, trust can be so inconsistent. It can be hard for the players. As a whole team, the players are not completely comfortable. Therefore, earning trust is something that is a vital point to connecting a team.
As a team, the players are working towards learning what it means to be a part of a group, granting that trust to create connections among the players, allowing the connectivity to reign within the team.
"I am extremely proud of the young men that have committed themselves to working hard and getting better at the sport of basketball. 'If you fail to prepare, prepare to fail,'" Davis concluded.
Readers can view the latest sports updates on the sports center page. This is where schedules, scores, and rosters will be posted. As the season progresses stories will be put out weekly to update on your pounders.