A Successful Ending to the 2021 Central Track Season with Junior Noah Collins Qualifying for the State Meet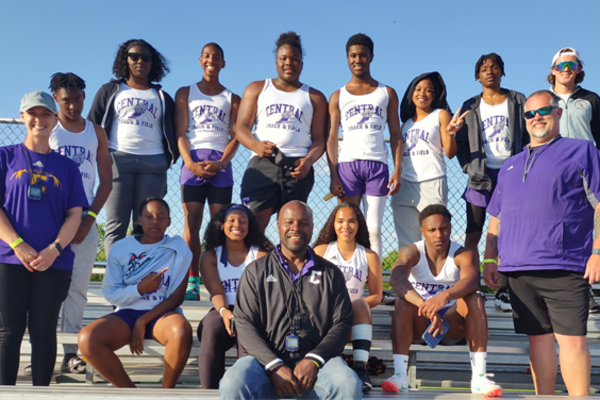 The Central track season has slowly come to an end. Coach Kribs, Bloodsaw, McGrath, and Parrot have been excellent coaches to the track team this year and has lead them to many accomplishments.
Both the boys and girls track teams have improved as the season progressed. Several individuals and relay teams time and time again have broken personal records throughout the course of the season. The Boys 4X100 and 4X200 relay teams were both less than a second from breaking the school record. The Pounders had individuals in events such as the 100m, 200m, 400m, 800m, 1600m, shot put, and discus. The team made it to sectionals in multiple events and one runner, Junior Noah Collins, will compete in the state track meet for the 200 meter sprint on May 27.
As the season progressed the team began to come together working to get faster and faster especially within the relay teams. This season was especially different for the runners since Covid has affected the school year so heavily. The team continued to push through the season. The coaches witnessed teammates cheering each other on in their respective events and finishers were always congratulated or met with words of encouragement at the finish line.
"COVID-19 made this season more challenging than it would have been otherwise, but we overcame adversity as a team and had a very successful season considering the circumstances," stated Coach Joseph Parrot.
The team had set high expectations for the season and have seen first hand the benefits of hard work. The team woking hard to improve throughout the season. In addition, nearly all runners qualified for both the sub-sectional and sectional races. They are a young group and both boys and girls are looking forward to returning next year to improve on what they started this year.
"I would like to thank our Seniors, Andrenique Moore, Kamren Hammonds, Daja Isom and Donovin Taylor for their outstanding work over the past 4 years. Also the great work and help for the coaching staff, Coach Kribs, Coach Parrott, Coach McGrath and myself," shared Coach Gary Bloodsaw.
Over the season there were many first place finishes for the boys team with the 4×100 and 4×200 relay races by Noah Collins, Kenneth Steward III, Donovan Smith, and Donovin Taylor. A highlight for the team being beating Ooltewah in the relay events along with many individual races. Another highlight for the 2021 season was Daja Isom qualifying for the sectional meet in the shot put and discus along with the girls team also qualifying in the 4×200 relay.
Readers can view the latest sports updates on the sports center page. This is where schedules, scores, and rosters will be posted.