Central Volleyball Finishes Season Strong by Defeating Brainerd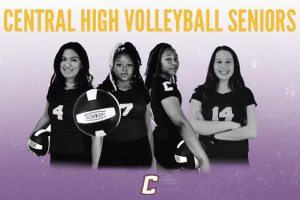 With the Central volleyball season now over, the team played well in their last two games. The Lady Pounders played against Brainerd High School on September 27.  The team then played against Red Bank High School for their last game on September 28. The Pounders had a victory over Brainerd, but sadly not Red Bank. Central played very well these last two games and is very proud overall with how the season went.
Senior Mikiah Tate shared, "The game against Brainerd was a fun game for us. It wasn't very challenging, but we enjoyed playing."
Coming off with the loss of the team's past few games, Central was prepared to defeat Brainerd. The team started off strong in the first set and won 25-14. The Lady Pounders continued to push through the next two sets, with a score of 25-8 and 25-10. The team was proud of their win against Brainerd and began to prepare for their final game against Red Bank.
"The game against Brainerd went well! We were able to practice some fundamentals and focus on three hits each time the ball was on our side of the net," stated Assistant Coach Casey McGrath.
The Lady Pounders were then prepared to take on Red Bank. Central was confident in winning and had been working hard during practice. The team went into the first set hoping to win. Sadly, the team lost 25-16 in the first set. Central did not let this bring them down, as they pushed through the next two sets. Although the Lady Pounders played well, they lost the second set 25-12, and 25-10.
"The game against Red Bank could have gone better, but our heads weren't in the game. I know we could have won, but we weren't all on the same page," Tate explained.
Central was devastated with the loss, but held their heads high and were happy with how the season went. The seniors' Carmen Breitenbach, Addason Wellington, Mikiah Tate, and Makayla McCarthy were all proud of how the team played.
Coach McGrath shared, "We had a rough start in the game against Red Bank with a player getting hurt in the end, but we fought back in the end, even though we ended up losing."
The team was very happy with how their season went overall. The Lady Pounders had many memories and favorite highlights from the season they will always remember.
"Some of my favorite highlights from the season was getting to watch my teammates grow from the first game to now. I also enjoyed seeing myself grow in the sport and my hustle on the court improving," Tate exclaimed.
Readers can view the latest sports updates on the sports center page. This is where schedules, scores, and rosters will be posted. The Digest will continue to bring the latest coverage and updates into the 2022 season.