New Teacher James Massengale Has A Passion to Teach and a Taste for Cooking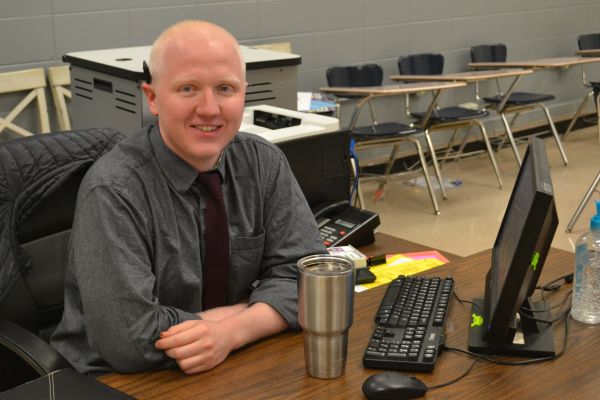 James Massengale is the new teacher for the Exploring Teaching and personal finance classes, replacing Mrs. Beverly Hollingsworth. Mrs. Hollingsworth retired early January and Mrs. Scoggins, a frequent substitute teacher, stayed with the two classes until Mr. Massengale took over in late February.
Before he became a teacher, Massengale worked many different jobs, mostly as a chef. Cooking is a favorite hobby outside of school.
"I cook a lot and barbecue anything. I love it," shared Mr. Massengale.
Mr. Massengale has been a teacher for a year and he was a wrestling coach for many years before that. He has continued with coaching at Central this year with the boys' wrestling team. He has taught subjects ranging from Algebra to English, including U.S. Government, U.S. History, and world history. His favorite subject to teach is government.
"I want to help people. It's easy to look at the world and see a lot of problems and, instead of complaining about it, I fix it," explained Massengale.
Mr. Massengale values education and his career very highly. In his early twenties, he realized that teaching is truly the most important job in this world. A teacher readies and supplies into the world an individual who has the chance to do wondrous things.
"Helping to unlock and progress students' abilities, teachers have the unique ability to affect change," stated Massengale.
From his experiences, Mr. Massengale shares his views on the value of education and why it is essential to every student.
"The students who are in the front of the class, the ones who pay attention and get their work done, definitely get rich. Nerds rule the world," shared Mr. Massengale.
Mrs. Hollingsworth's former students have only just met Mr. Massengale a few days ago, but many have already noticed Massengale's passion for teaching and his positive attitude.
"I think Mr. Massengale is hilarious and he does his job. I feel like I'm learning more than I did last semester," shared Vanessa Smith, a senior in Mr. Massengale's Personal Finance class.
Just like the students, Mr. Massengale has also quickly grown accustomed to the students and the environment. He brings with him high expectations for his new students to reach.
"I expect my students to understand the world around them and form opinions on it. Most students let stuff happen to them and I want them to understand how and why things happen," stated Massengale. "I am very excited to get to teach them how and why things occur. A decent teacher can get excited about teaching anything. I love it."
About the Contributor
Zeena Whayeb, Staff Writer
Zeena Whayeb is a current sophomore at Central High School and Best Staff Writer of 2017 at the Central Digest. When she is not thinking of a thousand...