Third Annual Career Event Aims at Providing Students with Skills to Guide Their Future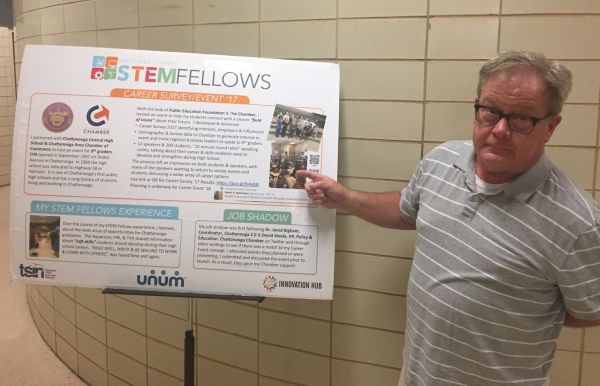 Students often seek knowledge that will assist them with their future endeavors. Mr. James Snyder, Central's RTI teacher, hopes to educate sophomores and juniors in regards to future careers with the 3rd Annual Career Event that will take place on Tuesday, October 30.
"The speaker group will total between 15 to 20 speakers. These people are not celebrities and most people will not have the opportunity to be a celebrity. However, these people represent a profile in success with wisdom to pass to 'their future selves,'" elucidated Snyder. "The speakers coming to the event continue to source from different industries in Chattanooga and most are not on the radar of most students."
This year, the speakers will consist of representatives from businesses such as Hospice of Chattanooga, Food City, and Harrison Bay State Park.
"During the 2016-17 school year, I was in cohort of 15 teachers that were organized as STEM Fellows for the Public Education Foundation (PEF). During that time, we explored the connections between STEM disciplines and local employers," explained Snyder. "[We] participated in panel discussions about 'student skill sets' that were valuable to future employers. The skills they highlighted were not specific academic skills but focused on the following: work ethic, reading and comprehension of informational texts, communication skills, and a positive attitude towards learning. Though these skills are not specifically associated with an academic class, a student's attention to these skills contributes to the success in that class."
Similar to last year, the event will be shared using the hashtag, "#CHSBizChat." Snyder is also encouraging students to participate in a survey using their student email to get more information about student career and social media interests. The link can be found here. The 2017 survey found that students are most interested in science/technology, arts/communication, and health science careers, with Snapchat being student's most preferred social media platform. Furthermore, students overwhelmingly stated parents/guardians have the largest impact on personal job prospects.
Snyder is hoping the event will help solve divide between employers, who cannot find qualified people to fill open positions, and students, who often question their learning standards in terms of their use in the future.
"The Career Event is an opportunity to share current information about future expectations," concluded Snyder.