Central's Newly Built Track Promises Years of Continued Success
Central started construction on the new track last fall, and it was recently finished about one month ago. Though it is a work in progress, the track is coming along slowly but surely. Many students are curious about the newly built track, as the bleachers, fence and lighting have yet to be constructed; Steven Lewis, Central's assistant principal, reassured that there is nothing to worry about.
Lewis was Central's track coach from 2006 to 2015, and has been advocating for a new track since his first year coaching. A multitude of athletes had gotten hurt during practice alone, rolling their ankles due to an abundance of cracks and holes in the track. Repairs were definitely necessary for the safety of the school's track team.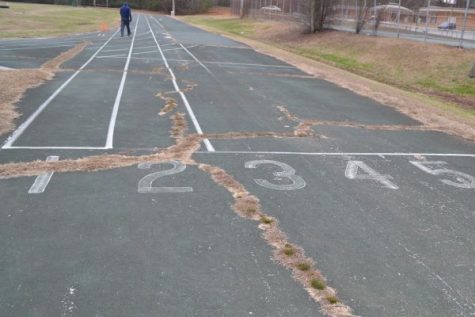 "The old track was cracked and filled with holes, but the new one is way better with its soft, new ground. I could run on it barefoot," said A.J. Sem, a senior at Central.
Senior track star Kaigen Mulkey is enthusiastic about the new track. Mulkey went to state-level competition for the 1600-meter run, and has broken Central's records for the 1600, 3200, and 800-meter runs.
"The new track is much softer due to the rubber surface, and is much safer, too," said Mulkey.
Lewis attended several school board meetings to attempt to raise interest in the project. He even talked about it on the radio on the Sports Talk program. Other schools, such as Red Bank and Ooltewah, have also supported Central in its fight for a new track. It took over 30 years, but all of his dedication finally paid off in 2018. With so many athletes on the team, rarely ever losing at a meet, many outsiders wondered how Central was able to have one of the best track programs with one of the worst, run-down tracks.
"The Times Free Press even wrote a long piece about our track to try to raise awareness in the community," shared Lewis.
The new track was entirely Lewis's design; in fact, a number of other schools have contacted Lewis to ask if they could use his design. The unique design was far better than the original designs the construction company presented to school administration. Their original plans were dangerous and risky to the safety of the athletes.
Some of the changes Lewis made to the design include constructing an eight-lane track instead of a six-lane track, seeing as Central can only host tournaments and meets if the track has eight lanes. The new track even meets regulation guidelines for college level track programs, and there is literally no other like it.
"The new track is something that helps make the school look better. As soon as we are able to host track meets, it will bring more students out for the track team," stated Coach Christopher Kribs, one of the track coaches who is also a ninth grade world history teacher.
"It's just great to finally have one," said Coach Gary Bloodsaw, head track coach.
The next steps to take will be building a large fence around the track, installing lighting, and constructing bleachers. Once this is done, Central can begin to host large meets and generate revenue for the school. Some new equipment is also needed, such as batons and discus gear.
Along with the track, a whole new set of starting blocks as well as 60 new hurdles were purchased. However, the other equipment is too old and worn down to use in meets.
"I'm excited that they added lights on the track, which allows for night time runs," said Mulkey. "Athletes can now use spikes to practice."
Other students, mostly members of Central's JROTC program, use the track for personal workouts. Seniors Alejandro Salazar and Tyler Mullins both use the track to practice for physical training exercises for the military.
"Compared to pavement, it doesn't hurt to run on the track. The new material is safer, and the new lines painted have helped me keep track of my distance better," said Salazar, who is using the track to work out to meet physical training requirements for the Army National Guard.
"The cement track hurt my ankles; the new one has just the right amount of cushion," said Mullins, who is practicing to meet qualifications for ROTC scholarships and the Naval Academy at Westpoint.
Though it is a work in progress, the track programs will surely be exciting to follow in upcoming years. As the track's construction progresses, there will be more events held at Central High. Lewis has special plans for a dedication of the track, and as more information is released, the Digest will keep students updated.
About the Contributor
Morgan Snyder, Columnist
Hi! My name is Morgan Snyder, and I am the Digest's new senior columnist. Even though it is my first year on the Digest, I love it very much. I am very...