The History of Stan the Pounder Man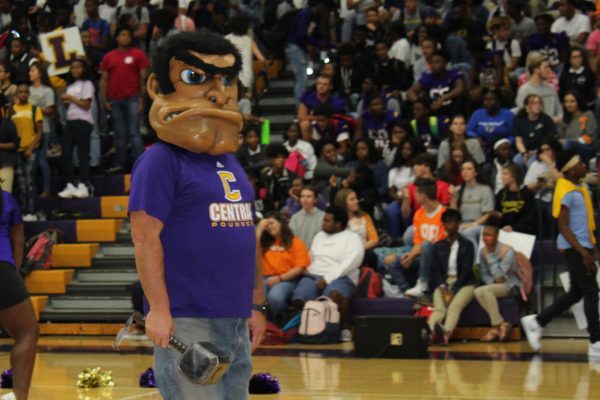 When it comes to school spirit, many Central students are quick to paint their faces, yell out chants, and support their peers on game day. However, one important player on the team is often overlooked and taken for granted. This teammate is the one and only Stan the Pounder Man, Central's mascot.
A large number of people are quick to ignore the importance of having a mascot, especially Stan. In actuality, Stan has a lot more substance than meets the eye and is a significant icon of Central's history. Assistant Principal Steve Lewis was a huge advocate for Stan's legacy and is one of the reasons for why Stan is still around today.
Lewis explained the school's previous situation, in which it lacked a mascot, mentioning the actions that needed to be fulfilled in order to appoint an official mascot.
"Originally, we didn't have a mascot, and I always wondered why. At the time, Mr. [Finley] King was the assistant principal, so when he became principal, we both agreed that we needed a mascot," said Lewis.
The outline for the mascot was already a clear concept, considering the school's symbol. It was pretty simple to build upon what had previously been established.
"Our school's symbol has always been the big hammer and anvil to symbolize a blacksmith. However, all we had was an arm, so we had to find out a way to expand on that by having a full mascot," revealed Lewis.
He admitted that the mascot Central ended up with was an act of fate. He believes that there was no better choice for a mascot than Stan.
"Mr. King and I decided to take the next couple weeks to look into a variety of different mascots to see what was available. The day that we both got back together, we both brought pictures of the same mascot and knew that it was the one," shared Lewis.
Lewis also shared the history of where the mascot's name originates from.
"His name is Stan the Pounder Man because, back in the 1940s, 1950s, and 1960s, Central's football team was at its peak. Therefore, whenever we won a game, the news article would say that we 'pounded' the opposing team. The name Stan is to commemorate Stan Farmer, the coach who got us the most championships," stated Lewis.
Credit goes to reader Charles Sedman for informing the Central Digest staff of when Central's golden decades were. The staff is very grateful for this correction, and constructive criticism is always welcomed.
"The Purple Pounder nickname came from one dominant season (1935) during the worst statistical decade in early Central football history ([we had] 10 wins in a decade that only averaged 5.6 wins per year). The Times started sending reporters to cover games in the 1930s, and Springer Gibson created a catchphrase to describe the 1935 team that stuck, in spite of the less than stellar years to come," Sedman corrected.
Our very own Central Alumna, Buffy Hoge, shared how important Stan is to her. She explained how the mascot was a great way to honor Stan Farmer and all the good he had done. To her, Stan is much more than a mascot, but an inspirational figure in Central's history.
"Stan is very special to me because I attended Jr. High through Central High School with Stan Farmer's daughter, Kathy. We graduated together in 1974. Even now, we are in touch about once a month. Finley King presented 'Stan' at our class reunion in 2009. I watched Kathy beam with pride; our class is very happy to have Stanley Farmer honored by the mascot," Buffy explained. "Stan Farmer probably invented tough love; so many Pounders from 1946 [and] on will tell you the positive effects he had on their lives. I smile knowing mascot Stan represents the best of our Pounder traditions."
The students here at Central showed how iconic Stan was when it came to sports. They believed that he was a good luck when it came to our previous football seasons.
"In the years before Stan, cheering on the team on the sidelines seemed to lead [to] our team doing better. This year, I noticed how he wasn't as prevalent at games as he was before. This may sound a bit superstitious, but I believe this is why the team did not perform as well compared to years before. I guess our mascot really does make a difference," stated Senior David Rudek.
As Central continues to maintain its legacy each year with the addition of new students, Stan the Pounder Man will continue to be an integral part of students' high school experience, symbolizing the school spirit that Coach Farmer helped cultivate through his dedication to his team.
About the Writer
Jaheim Williams, Staff Writer
Hello, my name is Jaheim. I am a senior here at Central, and this is my second year being on the Digest. I am considering becoming a sociologist or a psychologist...