Stan the Pounder Man: The Spirit Behind the School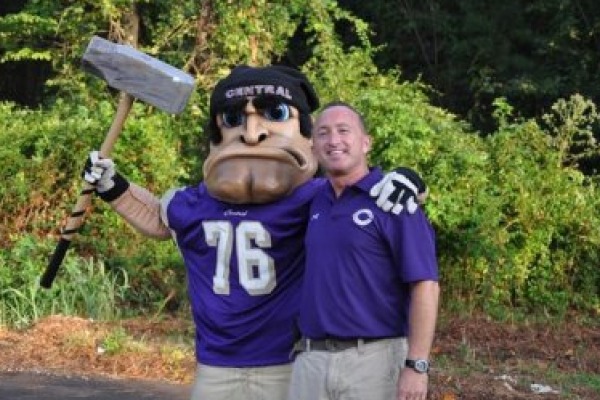 Chattanooga Central High School opened its doors in September of 1907 on Dodds Avenue. It was the first high school in Hamilton County to offer a full four-year academic program. Central has continued to be a wonderful and prosperous school since moving to the new location in Harrison. With every great school comes a great mascot. Stan the Pounder Man is that exact spirit that brightens the school's persona. Stan is the drive behind the sports teams and the student body.
"It's very exciting; you can act immature without anyone knowing and everybody wants to see you," Stan shared.
Stan loves the crowds and the attention. When the towering, purple-and-gold guy is seen at a football game, one is suddenly overcome with hype and excitement. He also gets the teams fired up. The athletes see him and they recognize that this is who they are playing for – the team, the students and staff, the family, and of course the school.
The requirements to be Stan are maintaining a 3.0 GPA, having no discipline record, and possessing an outgoing personality. Stan also has his own pre-game rituals.
"Listening to music, packing up my gear, bow my head, close my eyes, and pray for confidence," our mascot explained.
Stan is a very outgoing character and is well-known and respected around Central.
"Stan is great. I feel like he motivates us, represents our spirit, and keeps our drives going. Stan is a part of the great Central Pounders' tradition," student athlete Tareq Faleh described.
Like any good mascot, Stan is unable to reveal his true identity, but we do know the history of the face of Central.  Stan was named after Stanley Farmer, who was a former principal and coach here at Central. That is where the tradition originates from. Bringing the spirit all the way to the present day, that is Stan the Pounder Man.