Hamilton County Students Advocate Reform at Mayor's Youth Council Gun Violence Event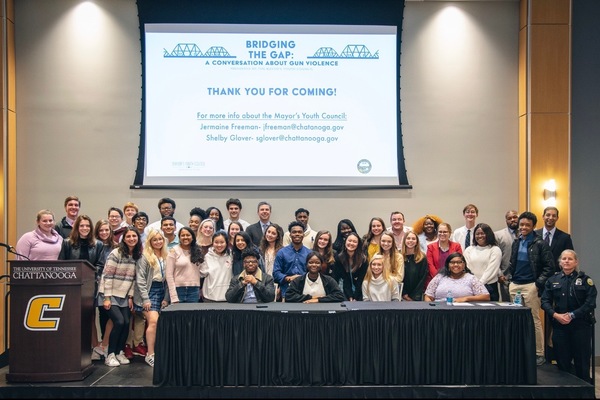 Today, society is faced by many challenges and threats that can affect the lives of citizens, especially its youth. One organization, the Mayor's Youth Council, is working under Chattanooga's mayor, Andy Berke, to solve these issues.
One of the topics the Youth Council gathers to discuss is the issue of gun violence in the local area. On Wednesday, November 13, the Mayor's Youth Council hosted "Bridging the Gap: A Conversation about Gun Violence," an event intended for students to share their thoughts on the important topic.
"Each semester, there's a different issue we focus on. This semester we heavily focused on gun violence," stated Central High Senior Cassandra Castillo, a member of the Youth Council.
The event was held in the Tennessee Room of the UTC University Center to discuss gun violence as well as strategies for decreasing local gun violence. The Council encouraged all students of Hamilton County to visit and take part in the conversation. Many local figures, including Mayor Andy Berke, Troy Rogers, Danna Vaughn, and Dr. Dave Bhattacharya were in attendance at the panel discussion.
"I enjoyed talking to people from different schools around the county and how the mayor and the panel were very intrigued and involved with the conversation. After every presentation, Mayor Berke and the rest of the panel would explain how much they valued their thoughts on the issue," shared Castillo.
After the discussion panel shared their ideas, five groups of students from the Mayor's Youth Council presented their own slideshows explaining their thoughts on gun violence and how to solve the issue.
The Council is one of the many effective ways Hamilton County youth are trying to end community issues in Chattanooga. The students have taken a stand to make a difference in society that could eventually help make the city a happier and safer place.
About the Contributor
Bailey Brantingham, Editor
Hi, my name is Bailey Brantingham. I'm a senior at Central and this year I'll be back on the Digest as an editor. I plan to attend UTK next year for college...