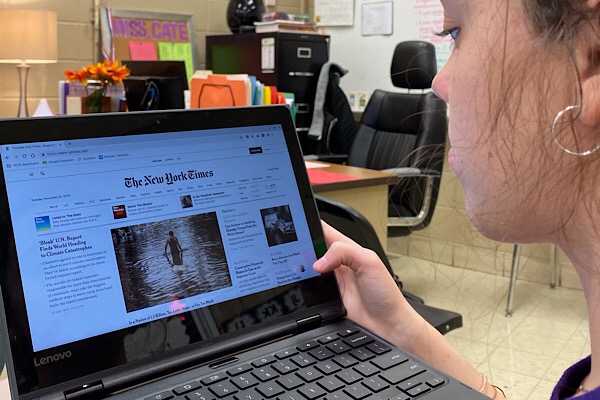 Central is Given Free Access to The New York Times Website
This year, many new learning luxuries have been introduced to students at Central High School. The biggest luxury so far has been county-issued Chromebooks given to each student. To add on to such an advancement, The New York Times  newspaper has given the school free access to unlimited articles on their website.
This new implication gives students, as well as teachers, access to ad-free articles that can be used in class assignments or just for leisurely reading.
"I'm definitely going to use this free subscription a lot in my classes. We already use many news sites for assignments, so this will be good for adding to the variety of sites we use. Any news is helpful for students to learn," shared Central's contemporary issues teacher Duncan Kelley.
The free articles from the New York Times will be a major advantage to many teachers, mostly history and world issues educators. The teachers will be able to share articles from the website for many assignments in which they use news articles already.
"I think it's great. We read a lot of articles in my contemporary issues class, and I think it will be really good to have this reliable resource. It'll benefit us because we'll be able to go there and [receive] good information on what we're learning," said Junior Ashlee Smith.
This new learning addition will benefit Central students and faculty by helping students produce more factual assignments, as well as keeping students and faculty up to date on current events.