Casey Hale is Central's December Teacher of the Month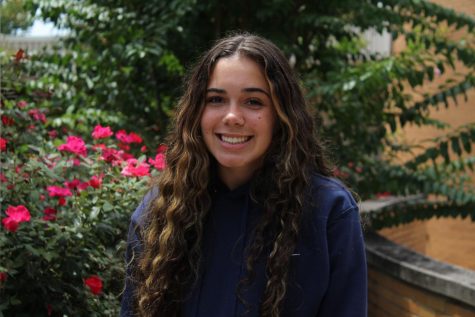 More stories from Kendra Jones
Casey Hale has been announced as the December Teacher of the Month for the 2021-2022 school year at Central High School. 
"I am very honored that I was chosen for Teacher of the Month. It has really helped me go into this new semester with confidence in what I am doing for and with my students," stated Hale. 
Hale has been teaching for five years, all of which have been here at Central. Along with teaching Creative Writing and Ninth Grade English, Hale is the sponsor of the Board Game Club during advisory. Outside of school, Hale enjoys reading books, journaling, playing Animal Crossing on the Nintendo Switch, kayaking, cooking, and playing with her dog, Doug. 
Hale began her teaching career here at Central as a student teacher for English Teacher Kevin Parsons in 2017. Hale began teaching at Central the following school year after graduating from the University of Tennessee at Chattanooga. 
"She was a very hard-working student teacher, but I think what made her stand out was her willingness to reflect on her practices to continue improving. When she finished a lesson, she actively sought out feedback to see how she might do it better the next time," explained Parsons. 
During Hale's time at Central, some of her favorite memories include journaling alongside her Creative Writing students on Fridays because of the calm, quiet, and reflective atmosphere that is created. 
"
I am thankful, though, that Covid has consistently highlighted the best part about my job: my students
— Casey Hale
With the last few years of her teaching career being during the COVID-19 Pandemic, Hale has learned that teaching keeps you on your toes. Despite working some of the hardest days of her career during the pandemic, Hale stays focused on what makes her job so important. 
Casey Hale's love for her students makes teaching more than just a job to her. 
"When I think of loving and amazing teachers, the first teacher I think of is Ms.Hale! Ms.Hale is a teacher and best friend all in one," stated Senior Raven Hingleton. 
Leave a Comment