Editorial: As Literature Fades Away, Imagination Goes With It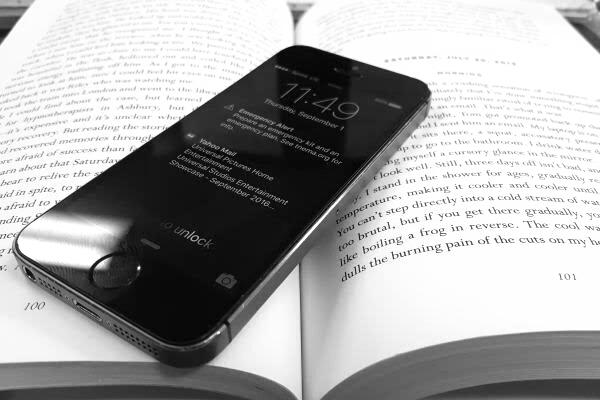 As the presence of technology grows with every passing minute, the art of reading is slipping further and further away with every vibration of the nearest iPhone.
It is so easy to sit down with a hot mug of coffee, a book in hand, prepared to read for the first time in months, but with every turn of a page comes a new Twitter notification, a new Instagram post vibration, a text in need to be read, and, eventually, the books are closed and the screens are illuminated once again. The book is cast aside, in favor of an unread text message, until the next time you decide to sit down and read again.
The distraction of technology lurks at every turn of a page.
For centuries, literature has been the most reliable form of self-entertainment, an activity enjoyed everyday by millions and millions of people. From plays to poetry, literature has been viewed as one of the truest forms of art. Though, as technology continues to sink it's claws into society, books are being let go as the latest smart phone is being embraced.
With the art of literature being lost, the use of the imagination is lost with it. Albert Einstein once said that, "Imagination is more important than knowledge… For knowledge is limited, whereas imagination embraces the entire world . . .". Without imagination, what progress can ever be made in society? No new ideas can be built if there is no imagination to build from.
"A big part of cultivating your imagination is constructive boredom. With smartphones and social media and little screens everywhere, there is constant stimulus and no downtime," stated John Daum, Central High School's philosophy, Bible history, and English teacher. Daum has always encouraged to students to wonder and question the world around them, and believes that books are a great way to experience things outside of themselves.
Books invoke imagination like nothing else. It encourages the reader to wonder things like, "How would I feel if that happened to me?" or, "Why is that character acting that way?" or, "How is that choice going to affect things in the future?" Books encourage people to ask questions about not only the characters in the novel, but about themselves or about the world around them. It encourages them to wonder about how they might deal with certain conflicts.
"Reading can help you not die stupid… It can be a nice antidote for self-absorption and narcissism. Reading allows you to get yourself unstuck; it gets you out of your current place and time and way of seeing yourself and the world. You can have conversations with fascinating people and experts from every walk of life," expressed Daum on the many wonders of reading.
As reading grows more and more uncommon, the use of imaginative skills gets further and further away. What happens when that imagination is gone all together?