thank u, next
Copy Editor Jake Johns says his final good-byes to the Central Digest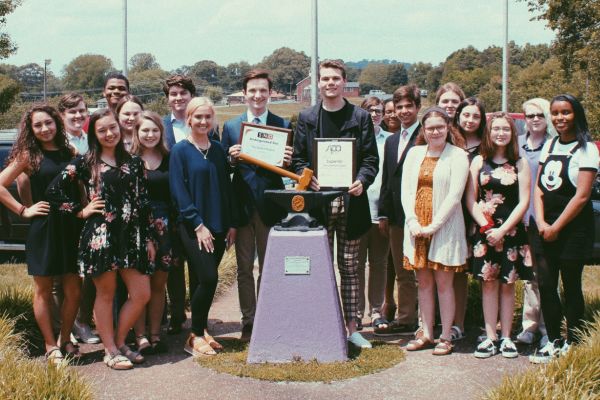 Even though the title of the editorial seems like a bitter goodbye, it is actually bittersweet and filled with so much emotion.
Throughout my four-year journey on the Central Digest, I have gained so many experiences, relationships, and opportunities that I could never imagine. When I first walked into B-109 in November of 2015, I was scared, nervous, and unaware of what I had gotten myself into. However, the Central Digest turned out to be completely different than what I originally thought.
As I get ready to embark on my adventure through college, and later into the field of broadcasting and music, I am so thankful for the people that have supported me throughout the years.
Kaylee "Dory" York, you have been my best friend and basically my sister. You continue to be my biggest support and I would not be sane without you. Thank you for always being uniquely you, and for always being there when I need a shoulder to cry on. I cannot wait to see all of the amazing things you do in this world.
Laurelie Holmberg, you are one of the greatest people that I have ever met in my entire life. You never fail to make me laugh hysterically at a television show, meme, or a specific person (you know who). I never thought in a million years that we would be close friends. You are going to be the best special education teacher, and every one of your students will be the luckiest in the world to spend their years with someone as delightful as you.
Celisia Snakenberg, thank you for being one of the sweetest humans. I will never forget your incredible jokes and your Publix sweatshirt in statistics. You are going to be amazing in anything you do. I can always count on you to be there anytime I need to talk, and it is the best thing in the world.
Matthew Davis, you are a mess. You have been my friend since freshman year, and you never cease to make me laugh. Thanks for all of the gossip and good times in class. Please learn to be at places on time in college.
Preston "Gilly" Fore, you are going places. Period. You have been one of my biggest supporters, and it means the entire world to me. Thank you for always encouraging me to do what I love, and to never stop being myself. I am so proud to call you my friend, and I cannot wait to see you in government one day.
Finally, to Cantrell and the rest of the Digest staff, thank you for believing in me. You all have been the best part of my day for the past four years. The amount of talent in the classroom is unmatched in the Hamilton County School District, and you all always impress me. Please keep DayOnna and Cassandra in line next year.
This entire school year has been eye-opening. I have been blessed with so many opportunities. I feel that so many positive impacts regarding my future career as a part of the music industry, are about to come my way. With the skills I have gained from this amazing staff, I will be able to blossom into who I am meant to be. I have so much gratitude that cannot be expressed in words.
All-in-all, my time on the Central Digest has been the best experience that I have ever had. This staff will remain in my heart forever. I do not want to leave, but unfortunately, I have to say goodbye and move on to my next adventure. With that, I have to say, thank u, next.
Leave a Comment