The End of an Era
After four years on staff and two years as editor-in-chief, Preston Fore prepares to depart the Central Digest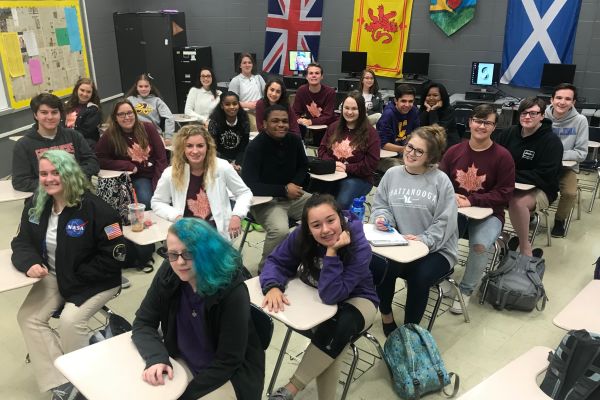 On my very first day of school at Central High School, I was a scared, timid freshman wearing a purple collared shirt with unkempt hair and braces. I remember sitting in my first class period of high school in B-109 with Mr. Gregory Cantrell. Little did I know this class would eventually become the best part of my day for the next four years.
If I am being honest, I initially hated it. I was a shy introvert in a classroom full of loud outgoing individuals, including many upperclassmen. Not only was I extremely intimated by all the students, but the class required me to go out and interview strangers — and that was something I did not look forward to. However, I knew I needed to do it. I forced myself to learn the hard way on how to talk to others like a normal person.
After a few weeks, I got the hang of it and I slowly became more comfortable at interviewing students, teachers, and alumni. Eventually, my hard work was noticed by others, most notably the editor-in-chief at the time, Allie Nadeau. I recall her asking me one day if I would be interested in becoming an editor one day. Then, on Awards Day, I somehow managed to take home the Most Valuable Staff Member award, and the rest is history.
Now, as a senior, I have the honor of having received the award for all four of my years in high school. As a sophomore, I became assistant editor of the Central Digest under editor-in-chief Savannah Smith, and as a junior and senior, I was in charge.
Looking back on my four years at the Central Digest, I can say without a doubt that it is single-handily the best part of my high school life. Every day, especially this year, I have looked forward to seeing my best friends in journalism. We have had our ups and our downs, but in the end, I love every single one of my fellow staff members. I literally do not know what I would do without them:
Missy (Jake): We all thought you were the weird annoying kid when you first joined the Central Digest in the middle of freshman year. Little did I know that despite your beach blonde hair and annoying Ariana Grande obsession, that one day you would be my right hand man in wrangling our staff into getting their stories (and their lives) together. Thank you so much for your service to the Digest– I don't know who would have been able to yell at people on my behalf. I cannot wait to see you shake-up the radio world.
Matty (Matthew): Though I have known you since sixth grade advanced studies with Ms. Convertino, we have been closest friends this year. You deserve an award for having the best time in class with endless laughs and judging faces without ever doing your job.
DayOnna: I could not envision a better person to take my place than you. You are extremely smart, creative, and talented and I cannot wait to see what amazing changes you bring to the Digest! Please just do me a big favor and take all the opportunities you can and run with them.
Sandy (Cassandra): I don't know how one human being could have made my senior year the best year ever, but you managed to do it. Thank you for being my best friend in journalism and beyond. I know you will keep DayOnna in line, but I know without a doubt that the Digest is in amazing hands with the two of you. I could not be more proud of how much you have grown from a writer to editor in such a short period of time. You better buckle up because senior year is coming and it will not last long.
Lori (Laurelie): Even though your number one hobby is to make fun of me, I am going to miss your butt smelling jokes. Thank you for all you have done for the school and the Central Digest, with your amazing columns this year.
Chelsea (Celisia): You are literally one of the nicest people I have ever met and I am glad to have had you in journalism for my freshman and senior years. (I remember as freshman we would just complain about Mr. Fomby). You are going to do such great things in college and beyond and I cannot wait to see what is in store for you!
The Baileys (Bailey B. and Baylee E.): I do not know how we managed to secure two people with the same name, yet you are inseparable friends. I am super proud of the both of you, as I have seen you grow as writers and video makers. Bailey, I am especially glad you have taken on roles at the Aquarium and YMCA. We need more of that kind of involvement at Central, so please continue to represent our school throughout the community. Baylee (the other Bailey), I will probably see you in Food City everyday, but I hope you learn how to control your crying.
Bloque (Blake): We have slowly but surely gotten you out of your shell as you have begun talking and opening up your personality. I know for a fact you are a great writer and will make a great editor. The Central Digest is in your hands for the second half of your high school career, so make it amazing!
Karl (Karleigh): Even though your patience is slim to none, I am constantly amazed by your energy and work ethic. You give me hope that the departing seniors are leaving Central in good hands for the future. Your upperclassmen days will be here before you know it!
To Everyone else: You all all incredible human beings and I am very thankful that our paths have crossed in this world. I am honored to have known you and I cannot wait to see you all achieve greatness in whatever you pursue!
Mr. Cantrell: Thank you for believing in me. If it were not for your constant drive and push for success, I would not be where I am today. You have been one of my teachers for the past four years of high school, and I honestly do not know I am going to function without going to journalism everyday. Thanks again for everything, I truly mean it.
While it may seem cheesy, my final appreciation goes towards YOU: the reader. If it was not for the dedicates students, faculty, alumni and supports of Central High School, the Central Digest could not prosper. I am so incredibly thankful for being a part of such an amazing and historic program. I will cherish my four years forever.
Leave a Comment