Central Welcomes Mr. Plemons, New Freshmen Math Teacher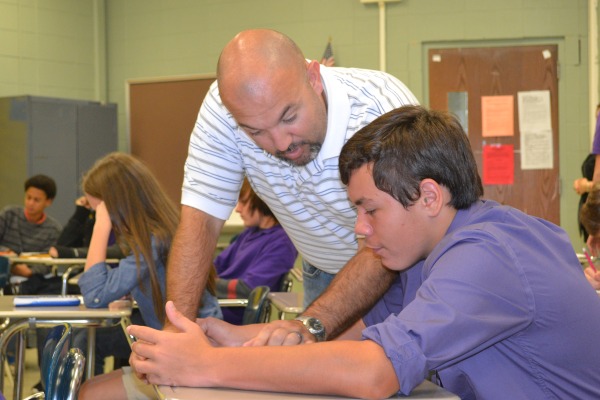 Many new teachers have came to Central this year, and Steve Plemons, a freshmen Algebra I teacher, is one of them. He attended Carson Newman College on a football scholarship and is originally from Sweetwater, TN. Plemons has been teaching for eight years and enjoys working with students.
"I love being around kids and watching them grow and learn. I love being a positive mentor for them," said Mr. Plemons.
"I currently teach Algebra I, but I have taught Algebra II, Math I and Math II, Geometry, Integrated Geometry,  [and] Algebra I and II Common Core. I taught at Loudon High School; Kingston Middle; Johnson High School in Georgia; Cedar Shoals in Athens, Georgia; [and] Gwinnett County School System [in] Georgia," he added.
Mr. Plemons is filled with enthusiasm and also has many hopes for this year.
"I am excited about being around the students and learning how to build new teacher-student and worker relationships… I am excited about seeing new faces and teaching them what I can and watching them grow to be successful learners. I hope that each student grows as an individual, as a student, and that they not only pass my class, but have the tools needed to be successful after they leave my class," he said.
In his free time, Mr. Plemons likes to spend time with family and friends, coach sports, relax, and watch football.
"I'm excited for Algebra I with Mr. Plemons! I know there will be difficulties just like in every class, but I am not really worried about it because Mr.  Plemons is such a good math teacher. I think he is a great addition to Central, and we should have more teachers that love their job just as much as he does!" shared Emily Newell, one of Mr. Plemons' students.
Having teachers who enjoy what they do and truly care about their students is one of the most critical parts of a great school, and Mr. Plemons seems to be a wonderful new member of the Central High family.