Connie Hay – The Man on the Sidelines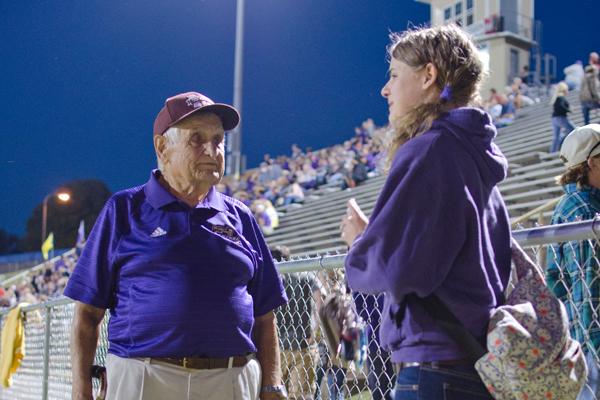 He often goes unnoticed. Amid the dedicated football team decked out in purple and gold, the smiling  and sparkling cheerleaders, and the focused coaches stands a small, older gentleman in a Central polo and Mississippi State visor on the side of the football field. This man is Mr. Connie Hay, a long-time supporter and coach of Central's football program. He never worked or taught here, but he's just as loyal as anyone who ever did.
A high school graduate from Blairsville, Arkansas (Class of 1944), Mr. Hay went on to play football for Mississippi State University on a scholarship.
"I was the tail back, which is the same as quarterback," he explained.
Mr. Hay majored in education and was offered a head coaching position at Jonesboro, Arkansas, at the age of 26.
"I tried to talk them out of it, that I was too young and too dumb, but they came back and said I had a great record – 8 and 2!" Hay recalled with a grin.
In 1953, Mr. Hay changed careers from teaching and coaching at several different schools to working for the Boy Scouts of America. He, his wife Naomi, and their children Tracy and Janet moved around until they were relocated to Chattanooga in 1973. Their two kids attended Central and Mrs. Hay was a teacher at Harrison Elementary. Throughout her many years of teaching, one of her hundreds of students there was Central's current principal, Finley King.
"She actually had to paddle me in fourth grade! She always said that that was why I became a principal," Mr. King recollected with a sheepish chuckle.
"He needed it, and he didn't have to have any more paddlings! But he's always been a close friend of the family," Mr. Hay fondly shared.
Even after his children graduated from Central (Tracy in 1977, Janet in 1981), Hay stayed involved, especially in the football program. He retired from the Boy Scouts in 1989, and now he helps out significantly in coaching the kickers on the team. Different players always come up to him during games to talk strategy and exchange laughs. 13 years ago, Central began a new football tradition – the Connie Hay Classic Golf Tournament, which raises money for the team.
"I do not play golf – I wouldn't know which end of the golf club to hit the ball with! But it's done well the past few years," Mr. Hay said jokingly.
His personality with everyone is like this.
"[Naomi and I] have been married for 58 years – we're starting to get acquainted," Hay responded when asked about his wife.
This gentleman teaches young men not only the logistics of football, but also how to be a good person. Mr. Hay has invested in the lives of countless Pounder football players by coaching them where it truly counts.
"He helped me [improve from being] a moderate kicker to the best in the county in the last two years. As a person, he taught me to give  my best no matter what the outcome and keep going forward, even when things aren't going my way," shared senior kicker Tareq Faleh.
"I love Mr. Hay… He's friendly to everyone and all the players know who he is," commented junior player Andrew Wilson.
"Mr. Hay is well-respected because he is a Central supporter, not only of football, but of all things Central. He works tirelessly to raise money for various sports teams without expecting anything but a 'thank you' in return. He is one of the best people I have ever met and is truly committed to the Central Pounders," stated Central's head football coach Ryan Mallory.
Hay is one of those people who touches everyone he meets. He certainly has left his mark on the hearts of many members of the Central family.
"He's a really great, Godly man," said Mr. King with admiration.
"He's done a lot for the school and football program, so he gets treated with a lot of respect," Wilson further explained.
"To be honest, Coach Hay is an example of what a real coach should be. He's like our role model! And we try to play our best for him because he puts all his time and heart into our program," Faleh also stated.
His 14-year-old grandson (one of five of Hay's grandchildren) in Bowling Green, Kentucky has also developed a love for football, and his grandfather is able to attend many of his games. After turning 90 years young in August, Mr. Hay shared that this will likely be his last year coaching at Central.
"But I'll still be at all the games," he reassured.